Great design consists of layered illumination. As you begin your next seasonal home refresh, aim to incorporate a mix of lighting sources. Lamps not only serve as statement pieces, but they also provide dimension and can set the mood of a room entirely! Read on for a look at a few lamps we've styled in recent interior design projects.
Desk Lamps Can Be Stylish and Functional
The first lamp we always recommend sourcing is a desk lamp. In the corner of our Fairway project's primary bedroom, we added a small desk area for our client to get work done from home. We styled a beautifully arched desk lamp to not only tie in the other brass elements found throughout the room but also provide a light source to ensure productivity.
Brighten Your Bedside with a Stylish Nightstand Lamp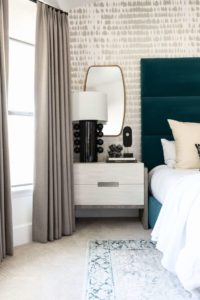 Sometimes lamps can be artwork themselves! In our Scottsdale interior design project, The Estates, we styled a modern, ceramic lamp on top of the two nightstands flanking the upholstered bed. Balancing both beautiful and practical, nightstand lamps are a great source of light on dimmer days. In bedroom areas, aim to find a lamp with shades that can help contain the light to avoid disturbing any nearby nappers.
Make a Statement with a Floor Lamp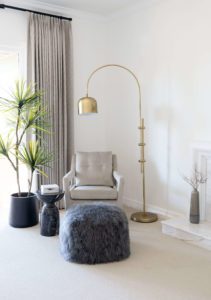 Floor lamps can serve as beautiful statement pieces in any interior. We love that this brass floor lamp from our Marshall Ave interior design project is adjustable and can be molded to fit into nearly any space. This versatility will allow the piece to live in our client's home for years to come. One of the top tips we share with clients is to not be afraid of investing in quality pieces like this that they love!
Beautiful Entryway Lamp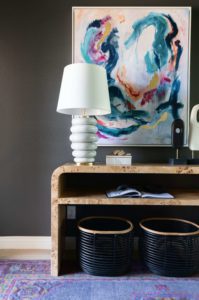 Have you ever laid eyes on a more beautifully intricate lamp? We can't get over how the color of this lamp from our Cave Creek interior design project, Calle De Pompas, complements the adjacent artwork and accent wall. It's the perfect touch to make guests feel right at home as soon as they enter.
Don't Forget about Hallway Lamps
Last but not least, lamps always sit pretty on cabinets or console tables. Inside this cutout in our 83rd Place project, we opted to maximize space by styling a ceramic table lamp, artwork, and various accessories. We kept all of these details neutral to avoid overwhelming the space, and we love the subtle yet striking effect it had on the overall setup!
We hope this blog post helped you gain some inspiration on how to style lamps in your home! For more design trends, tips, and project reveals, subscribe to our newsletter and follow us on Instagram
Cheers!
The Living With Lolo Team