Looking to find your footing when it comes to home design? Rugs are one of our go-to pieces to ground and define an interior. Whether you're wanting to connect or divide a space, rugs are great for adding intention and warmth to your home. Keep reading for a look at five rugs we recently styled in our interior design projects!
Geometric Rugs Make a Statement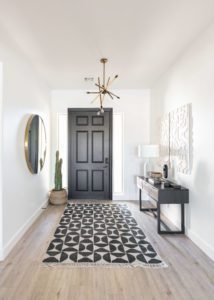 An entryway is where first impressions are made, so it's important that it sets the tone for the rest of the home. Combining modern and Moroccan, this geometric rug's pop of pattern is the perfect way to draw guests into our Montevista Project.
We know how intimidating prints can be for homeowners, but oftentimes pattern is just what the interior needs to make a memorable statement. Featuring the same black and ivory tones found in nearby details, this geometric rug added a beautiful and balanced feel to our project's entryway.
Bonus: the durable weave made it an ideal piece for a high-traffic space like this one!
Solid Rugs Can be Stylish without Being Boring
We're all about incorporating color and pattern in an approachable way, like we did in our 83rd Place project. In a neutral interior like this one, a rug with a pop of color is great to style alongside quieter elements as it keeps the design interesting and eclectic without going over the top. The over-tufted dot design also adds a subtle and intriguing texture to the space. Who said solids have to be boring?
Hide Rugs are Not Going Out Style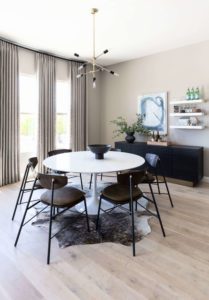 When it came to adding sophistication and comfort to our Calle de Pompas Project, we looked no further than this cowhide rug. Its organic shape was a beautiful complement to the dining space's small circular table. The rug's natural texture and dark tones also added a warm and masculine touch to the interior.
Elegant Black and White Rugs are Always a Good Idea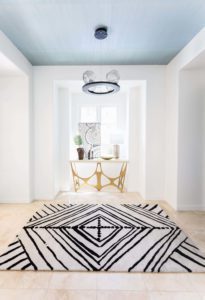 High-contrast and high-impact color palettes are our love language, so it's no wonder why this black and white rug was love at first sight for us. Its sleek and elegant colorway is just what our Silverleaf project's entryway needed to draw guests in.
How to Style with a Jute Rug
We love combining chic, contemporary style with relaxed, approachable comfort. That's why in our Ironwood Project's primary bathroom, our goal was to create a serene, organic feel with touches of glam throughout. This textured jute rug gave us the best of both worlds! Its high contrast made a statement, while its natural texture kept the space feeling simple and grounded.
We hope this blog post helped you gain some inspiration on how to style rugs in your home! For more design trends, tips, and project reveals, subscribe to our newsletter and follow us on Instagram
Cheers!
The Living With Lolo Team