Our
Camelback Country Estates
clients left California to enjoy Scottsdale living year-round. This Scottsdale interior design project was filled with transitional pieces that helped them comfortably evolve their traditional style into a completely livable, more modern vibe that is perfect for their young family. Keep reading for a look inside!
An Open Entry Space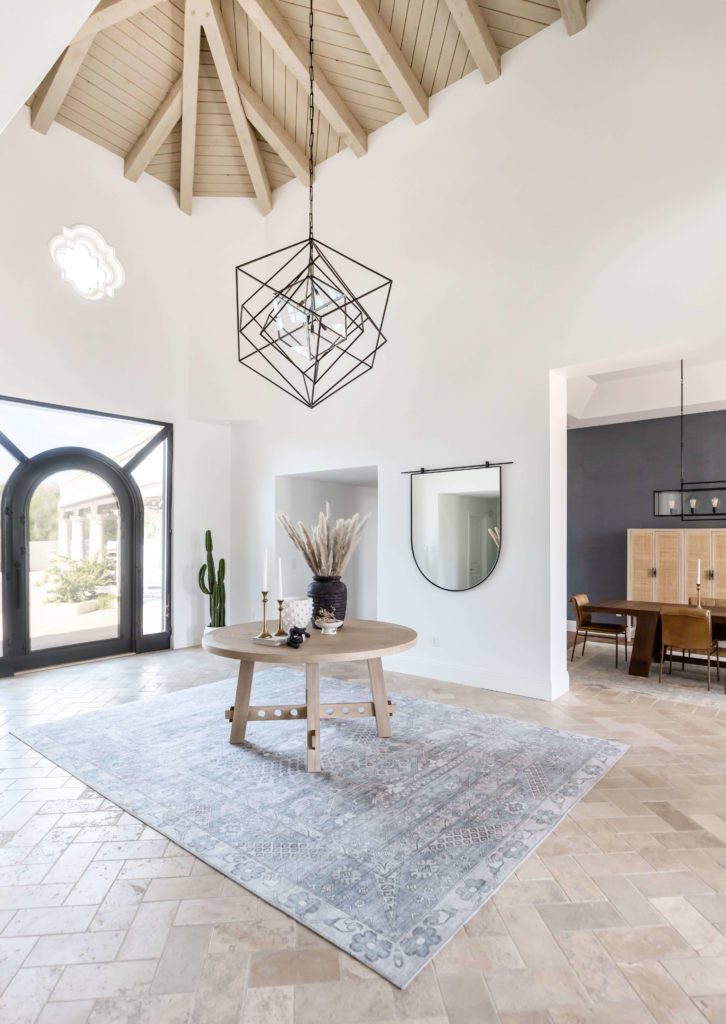 Because this project backs up to Camelback Mountain, we wanted to bring the beautiful views indoors by incorporating large glass doors, windows, and mirrors throughout the home. In the entryway, the front door originally had an ornate metal design, so we opted to remove that detail for an added modern and open feel.
Further accentuating the openness of the space, we hung a large, geometric chandelier from the interior's high ceilings for added impact. Just below the chandelier, we styled a rug and dining room table as the centerpiece, as opposed to a typical entry table, to fill in the remainder of this large room.
A Dining Room that's Stylish for the Parents + Functional for the Kids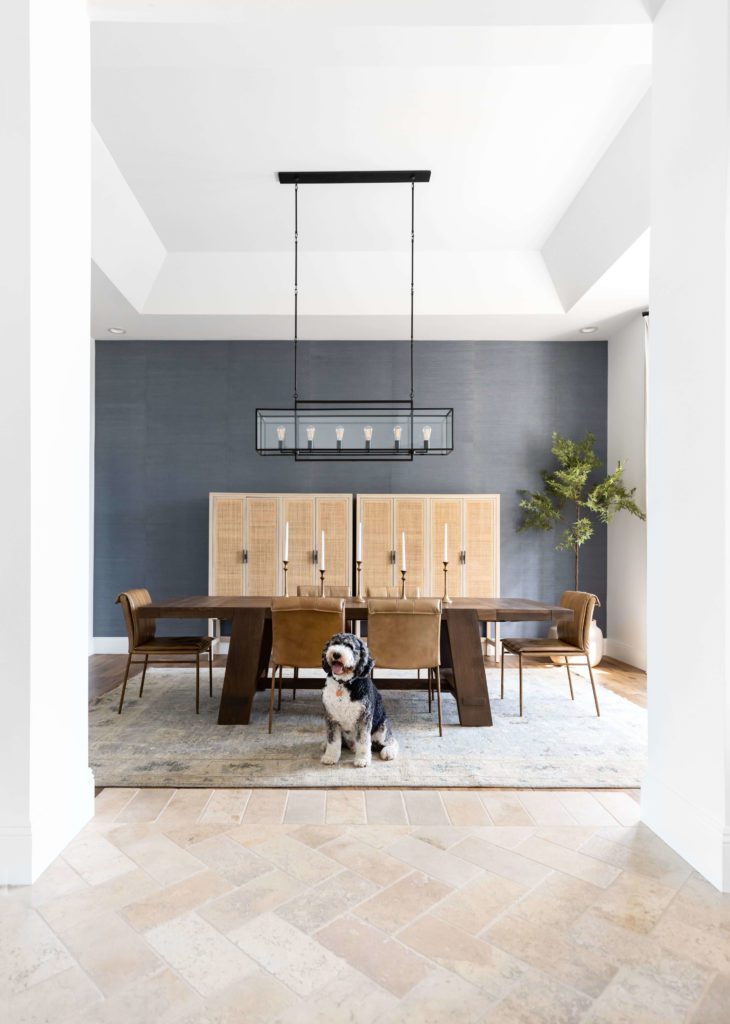 We believe you can have beautiful, chic spaces without it being all too precious to live with comfortably. For this family's project, we designed a dining room that could also function as a kid's craft space. To balance beauty and functionality, we styled stunning cabinets to home all art supplies, and also added leather chairs to ensure easy cleanup. As a backdrop for this space, we added a textured grasscloth wallpaper.
The Family Room That Serves the Family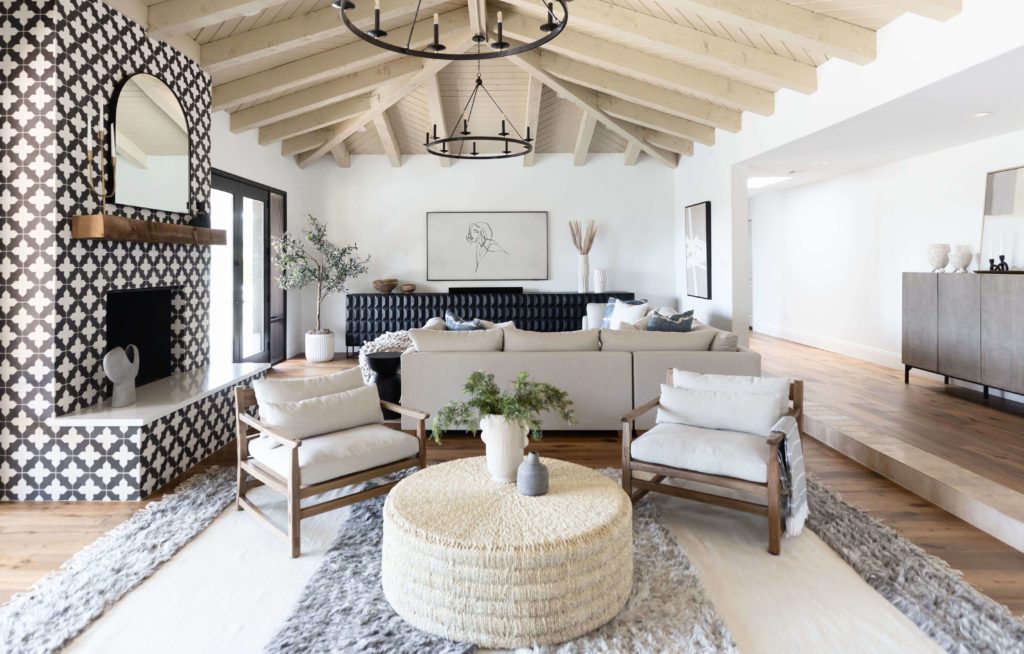 This spacious family room gave our design team plenty of room to be creative. To maximize the large space, we decided to split the room into two: a sofa and a seating area. In the sofa area, we added a custom-sofa proportionate to the size of the space. To best separate these two sections of the family room, we hung two chandeliers from the wooden ceiling.
For family movie night entertainment, we hung a Samsung Frame TV that doubles as a piece of art when not in use. Because this TV was long, we wanted to maximize space underneath, while still being cost effective, so we opted to style two sideboards side by side as opposed to adding a custom piece.
While most of our clients don't identify as risk-takers when it comes to design, they don't want the same-old-same-old look either. They value unique, contemporary style with lots of personality and character; but they also want their homes to feel light, airy, inviting, and comfortable. We aimed to do just that in this family room by re-tiling the fireplace with a beautiful cement tile and quartz slab. We love how these details helped our clients step out of their comfort zones in an approachable way!
We Didn't Forget to Show the Hallway Some Design Attention
To maximize space in the long hallway off the living room, we opted to put two consoles side by side to give the look of a larger, custom piece. On top of the console tables, we flanked the statement artwork with a cement lamp, vases, and other table accessories.
Boucle Bed + Grasscloth Wallpaper = Guest Bedroom Full of Texture!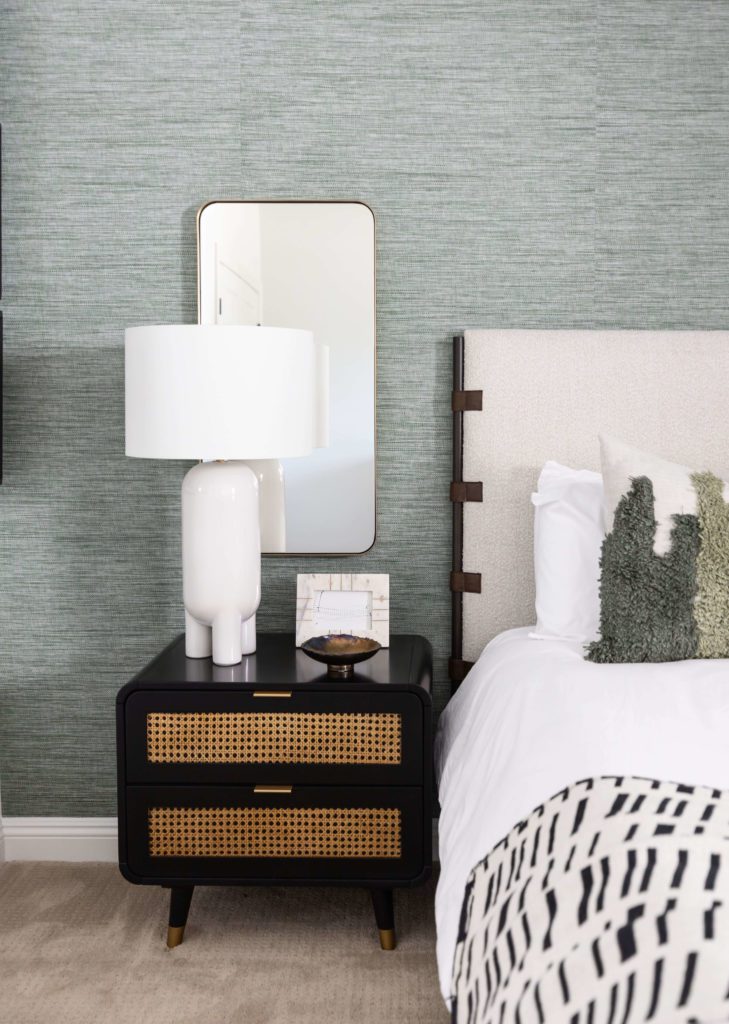 This home's guest bedroom is texture galore! For comfort and warmth, we started by adding a beautiful, sage green grasscloth wallpaper. Contrasting this pop of color, we styled a boucle-textured bed with stunning leather detail straps. Flanking this piece, we added two cane nightstands with brass footing and large lamps to fit the scale of the bed.
A Feminine Office Space

Our team opted to convert a small room right outside the primary bedroom into an office space for our client. We wanted to make this room feel feminine, so we added a beautiful embossed textured wallpaper and a blush-colored rug to match. For an added pop of color, we incorporated gold bookshelves with plenty of room for storing office supplies!
We hope you enjoyed this glimpse inside our Camelback Country Estates Project! Interested in working with us on your next project? Click here to send us a note about your project!
Cheers!
The Living With Lolo Team