Sereno Canyon Part 2
You all loved the first look we shared inside our Scottsdale interior design project, Sereno Canyon. Today, we're back to unveil the remainder of this stunning home! Read on for a glimpse at some of our favorite details inside this project by top interior designer in Arizona, Living with Lolo. 
 Planter-https://rstyle.me/+mxCk_iopW2XcH2PEC6AP3A
A wonderfully abstract wallpaper became the backdrop to this modern primary bedroom. Contrasting the wallpaper's deep color, we styled a custom white, upholstered bed made with boucle fabric in front of it. At the foot of the bed, we added a sleek bench for beauty and functionality, making it easy for the homeowners to sit and kick off their shoes.
Custom Drapery
On the adjacent walls, we added beautiful custom drapery starting at the ceiling and expanding the entire width of the windows. This technique is our favorite for elongating the look of any interior.
We've shared before that there's no better way to bring life into your home this Spring than with greenery and faux plants. In the corner of the primary bedroom, we added a faux tree inside a large faux stone planter. We love the timeless texture it added to the space!
Flanking the bed, we styled two nightstands with fluted detailing on the front and stone detailing on the top. Hanging above the nightstands are two pendant lights, providing our clients with the perfect mood lighting for cozy evenings in.
Runner-https://rstyle.me/+RKp0ZxKS_O5jlJc3_CH8zA
Bold Details
At Living With Lolo, we're known for adding bold details in an approachable way. In the primary bathroom, we added our signature touch by installing a black chandelier above the white bathtub for a touch of drama and contrast. Adjacent to the tub, we added a small side table for our clients to rest their glass of wine or cup of tea on during their well-deserved R&R session.
If you look at the walls flanking the sides of the bathtub, you'll notice only one of them has a window. Because of this, we added a piece of art on the right side wall to create balance and symmetry.
Lastly, for a dash of cozy and organic texture, we added a hand-loomed shag rug with abstract shapes. Take a look at other ways we like to elevate interiors with rugs in our 5 Rug Style Trends We Love blog post!
Custom Mirrors
On the opposite side of the primary bath, you'll find our long, custom vanity. To best fit the above wall space, we opted to add three custom mirrors: two sized for each sink area and one sized to fit the larger space in between. The reflection of the window's natural light in the mirrors, combined with the pendant lights we installed, creates the perfect lighting setup for getting ready.
Because the height of this makeup vanity is taller than you'd typically see, we had a custom ottoman made so that when our client sits, they're at the perfect height to look in the mirror.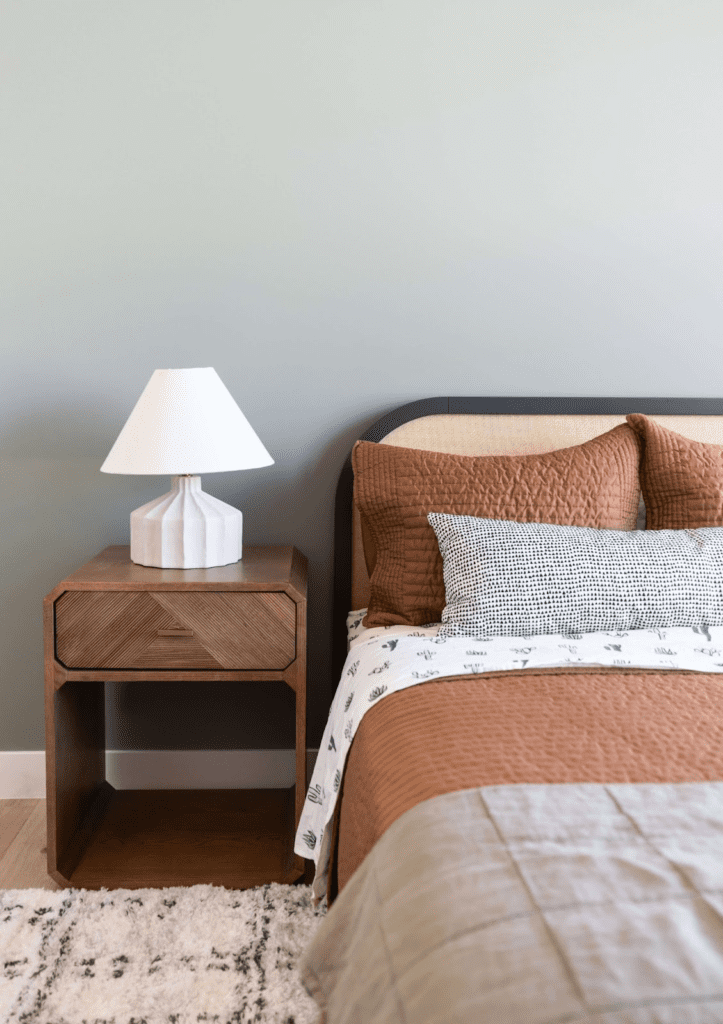 Nightstands-https://rstyle.me/+fiFTeZ8aml7N6iPQRsQL_g
Painted Walls
In the kiddo's bedroom, we were inspired by the beauty of Arizona. As a backdrop to the interior, we painted the walls a sage green color for a light, organic feel. Complementing this shade, we added a dark olive green bed with cane detailing and terracotta bedding. Flanking the bed, we added ash wood nightstands with brass hardware and gorgeous detailing.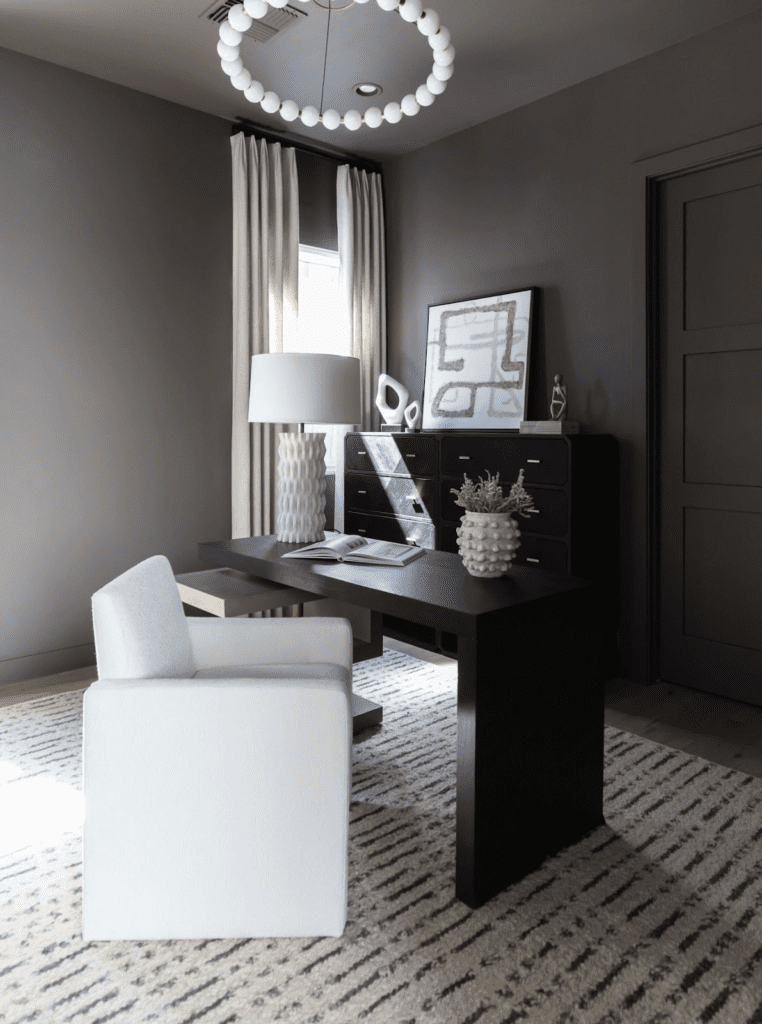 Chair-https://rstyle.me/+F_aZJIlO5fcH_2hJ-_r7gg
Our goal with any home office is to create a beautiful interior that actually inspires our clients to sit down and get work done. Centering the space we added a multi-toned wooden desk and a sophisticated, upholstered chair. Made with performance fabric to withstand any wear from long workdays, this cushioned seat is a home office essential. To tie it all together, just above the desk setup, we added a white and brass chandelier.
For finishing touches, we painted the entire space (yes – ceiling, baseboards, walls, doors, and all) a stunning moody shade. For privacy and distraction-free meetings, we added custom drapery.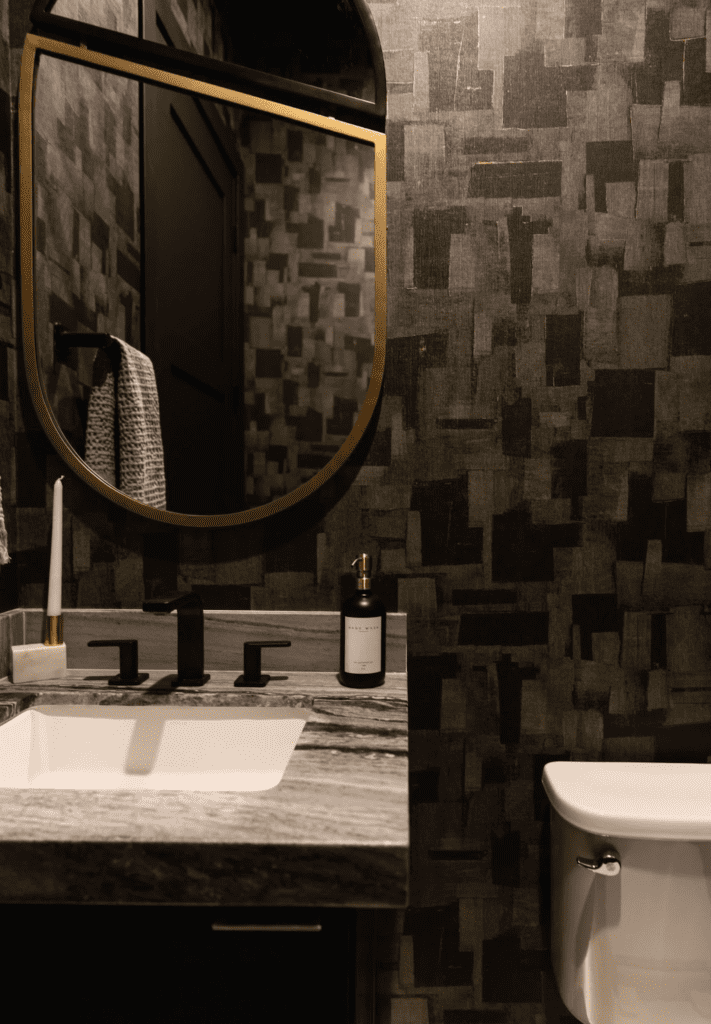 Mirror-https://rstyle.me/+jg06qxeDa0zy7j0TQxOJjA
In this powder bathroom, our goal was to create a moody vibe, and dare we say we nailed it! Can we talk about how eye-catching this mirror is? We love how the abstract detail draws guests in and the black and brushed brass detailing adds to the cohesiveness of the entire home.
We hope you enjoyed this glimpse inside this project where you see why we are constantly ranked the top interior designer in Arizona. Interested in working with us on your next project? Click here to send us a note about your luxury interior design project!
Cheers!
The Living With Lolo Team