An Interior Designers 5 Favorite Kinds of Greenery & Faux Plants
There's no better way to bring life into your home this Spring than with greenery and faux plants. Historically signifying nobility and status, house plants are now a common and timeless piece for adding delightful, positive energy to any abode. Read on to discover 5 of our favorite plants to incorporate into our clients' homes!
Use a Cactus to Bring the Outdoors in, Especially in Phoenix Design
As an Arizona-based interior design firm, we love bringing the outdoors in with cacti. Available in various sizes and heights, these versatile plants can be styled on a small shelf or planted in a floor planter to maximize space in interiors with tall ceilings. In our Black Rock Project's entryway, we added a faux cacti to fill in the wall space next to the bench and artwork.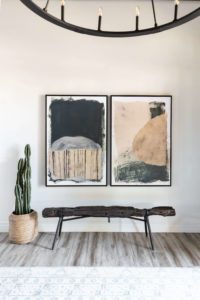 Olive Trees Create Peace & Harmony
Symbolizing peace and harmony, we love curating serene spaces with olive trees. Investing in a realistic-looking, higher-end faux plant is key to fooling the eye of those with even the greenest of thumbs. In our Fanfol Project, we filled the corner of the large living space with this 7-foot faux olive tree from Crate and Barrel. To further personalize the plant for our space and add a dash of contrast, we planted the tree in a black, circular planter.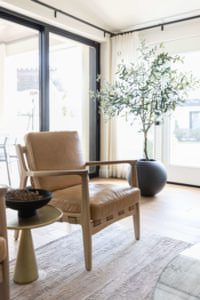 Vases with Stems
If you've been following us for a while, you'd know that vases are one of our favorite accessories to style on top of cabinets and console tables. You can take your tablescape a step further by adding real or faux branches to the vases. McGee & Co. is one of our favorite shops for sourcing dainty and delightful greenery like this! We recommend bending and fluffing the branches for an extra realistic look.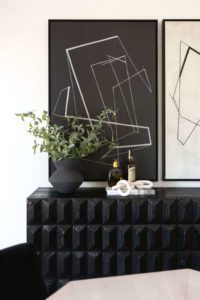 A Snake Plant is Perfect the Not-So Green Thumb
Don't have a green thumb or aren't in love with the look of faux plants? You're in luck: snake plants are incredibly low maintenance and require little care in order to flourish. With the ability to survive in low light levels and without fresh water for 2-8 weeks, these eye-catching plants are perfect for incorporating authentic color into your home with ease.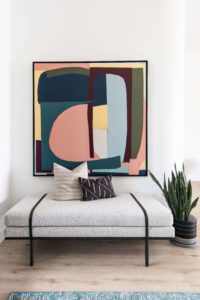 Brighten and Fill Large Space with a Fig Tree
Symbolizing prosperity and wellbeing, fig trees are another great option for maximizing space in larger interiors. We love how the lush leaves can help brighten and liven up any space. In our Fanfol Project, we opted to style it in a wicker basket for a more natural, boho feel.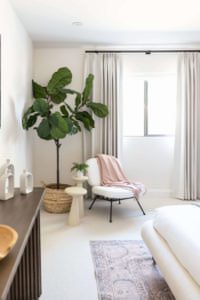 We hope you found this blog post helpful in learning more about how to incorporate greenery and faux plants into your home. For more design trends, tips, and project reveals, subscribe to our newsletter and follow us on Instagram.
Cheers!
The Living With Lolo Team