If you're in the interior design industry, you know there's nothing better than wrapping up a project and seeing your full vision come to life (especially nowadays….thanks to recent supply chain issues!). These upcoming months, our team is booked and busy with finishing touches, and today kicks off the first of many new project reveals coming your way. Allow us to introduce you to our Estates Project!
A Warm Welcome + Modern Entryway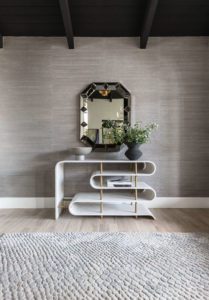 When designing an entryway, we love creating a space that instantly draws guests in and conveys a warm welcome. In this project, we really wanted to draw the attention upward to the home's unique angled ceiling with wooden details, so we opted to paint it black.
Contrasting the black ceiling is this modern marble and brass console table with curves in all the right places. To reflect and bring more light into the space, we hung a beautiful octagon-shaped mirror. The way the glass is cut makes it look like it's made of gemstones, further luring guests in!
Serving as the backdrop to these one-of-a-kind pieces, we added a stunning wallpaper with a washi cement finish for a touch of texture.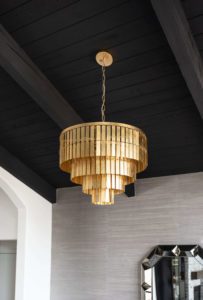 You know we love introducing statement pieces in an approachable way. To top off the entryway, we hung a hand-crafted, four-tiered chandelier with a personality of its own. Each symmetrical layer features individual plates of gold leaves, adding just the right amount of glam to this interior.
A Glam + Sophisticated Office
We believe in using our creativity and intuition, but also in listening to our clients and getting to know them deeply in order to create designs that are customized and personalized just for them. As the legal counsel for a major beauty brand, our client needed a space that she could come into and kick butt, while feeling inspired. This office does exactly that!
To complement the black cieling we carried throughout the home, we added black marble tile on the floor. Centering the space, we styled a beautifully carved desk with a spacious table top and a custom chair in one of her favorite colors – green!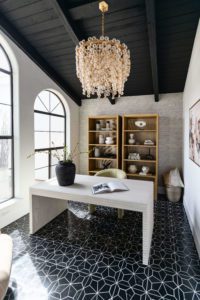 Just behind the desk we added a grass cloth wallpaper accent wall and two shelving units with natural hand-woven cane paneling for added texture. And lastly, because no space is complete without touch of glamour, we hung a statement chandelier that really brought a "wow" factor into the space.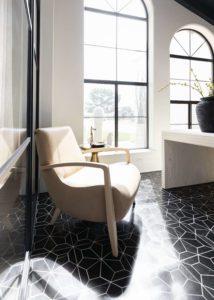 The office's sitting area features a little bit of drama, a little bit of edge, and a lot of livability. To complement the bolder elements in this space, we styled a monochromatic, mid-century modern leather chair with a seductive silhouette. Adjacent to the chair is a brass side table for added functionality. Wouldn't you want to have a seat and stay a while?
An Open + Inviting Formal Living Room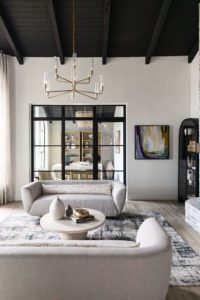 Just outside our client's office is the formal living room. To keep the space feeling open, while still allowing for separation, we added glass doors for just the right amount of privacy. The door's black frames beautifully complement the black accents found on the ceiling and nearby bookshelves. Lastly, we added two sofas to finish off this entertainment space.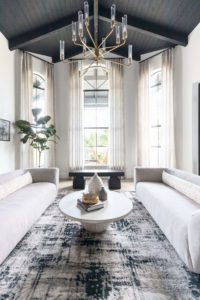 We believe in culling the options for our clients and bringing them only the best selections for their space, the design, and their lifestyle, and sometimes that means seeking custom furnishings and finishes! To further elongate this living space's high ceilings, we added floor-to-ceiling custom drapery. Further bringing the eye upward, we also added a two-tier brass chandelier.
We hope you enjoyed exploring our Estates Project! Interested in working with us on your next project? Click here to send us a note about your project!
Cheers!
The Living With Lolo Team