Project Reveal: Montevista Pt 2
Last month on the blog, we shared a peek inside a flip property we purchased in need of a modern makeover. One of our most-complimented design projects to date, we couldn't be more excited to share the remainder of this re-imagined, contemporary Cave Creek home!
A Refreshed Kitchen
Starting off in the heart of the home, there were a few updates needed to elevate the look of the kitchen. We started by giving the cabinets a fresh coat of paint and swapping out the outdated crown molding for something with a more modern profile.
Next, we wanted to maximize the space on the island. Originally containing two levels with a bar top, we leveled it to one surface and re-used old cabinets as photo doors on the face of the island to make it look larger. To further refresh the space, we added a new backsplash, countertops, and beautiful globe pendants.

Right off the kitchen, guests are greeted by the breakfast nook, which was originally separated from the family room by a bar that we opted to remove for an open concept. For styling, we added this beautiful table, light fixture, custom Roman shade, and, of course, black chairs for contrast.
Back in the kitchen, we swapped the built-in hood that came with the home for one that was more contemporary. We also opted to bring the new backsplash up to the top of the hood to elongate the look of the space.
Make an Entrance with this Modern Dining Space
At Living With Lolo, we know how to make an entrance. This modern dining space welcomes guests immediately upon entering the home. To maximize wall space, we added a stunningly detailed, wooden sideboard and hung custom art just above. Filling in the remaining space we styled a dining table, chairs, and a modern-retro chandelier.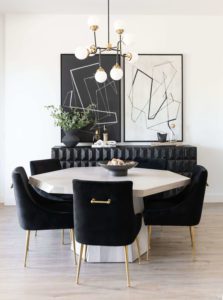 Right off the dining room is this sitting room. Because guests walk into one large room upon entering this house, we were intentional in giving each space its own feel by adding a unique light fixture to each.
For styling, we added a rug, coffee table, customer drapery, and chairs with blue clay fabric. Because you know we love balancing beauty with functionality, we also added this stunning rattan cabinet, perfect for hiding not-so-glamourous household goods.
A Sophisticated Primary Bedroom
This project's primary bedroom had these gorgeous, large bay windows. To give the space purpose in the bedroom, we added a chaise, concrete side table, and custom drapery. We love how sophisticated and inviting this corner turned out!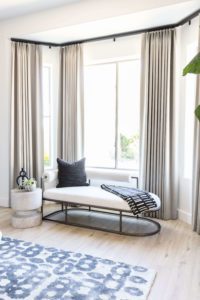 Similar to this space's family room, the primary bedroom also had an oddly placed window that we wanted to remove. To improve functionality of the space and create more area to work with, we applied an opaque film to the window that we then drywalled over. For a point of interest and unique detailing, we lastly added a grass cloth wallpaper over top. Next, to fill the interior, we added several large furnishings, including an upholstered bed, chests (as opposed to nightstands to maximize wall space), and simple yet striking lamps.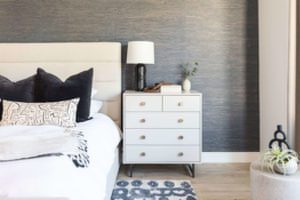 We hope you love this project's transformation as much as we do! Interested in working with us on your next project? Click here to send us a note about your project!