Project Reveal: Montevista Pt 1
In 2021, we decided to invest in a flip property in need of a modern makeover. Our goal with our Montevista project was to bring the home from dark and dated to airy and contemporary. Read on for a first look inside this project!
A Light & Bright, Welcoming Entryway
Starting in the entryway, guests are immediately welcomed into a freshly painted, light and bright space. For a contemporary edge, luxury vinyl flooring and new baseboards with a thick profile were incorporated throughout the home. Not only do we love the finished look of luxury vinyl flooring but we also love that it can be laid overtop of existing tile, saving our clients the money and mess of a demo.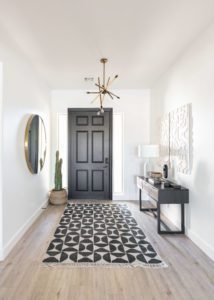 Contrasting these details, we painted the front door a deep gray shade and incorporated pops of the same color throughout the space with a woven geometric rug, console table, and light fixture. On top of the console, we styled a cement lamp, complementing the adjacent cement artwork.
Added Home Value with Stylish Updates
In the bar area right outside the kitchen, we added a fresh coat of paint to the original cabinets, new hardware, and new quartz countertops. To make the space feel more open, we also removed the upper cabinets and replaced them with a glass and brass shelving unit.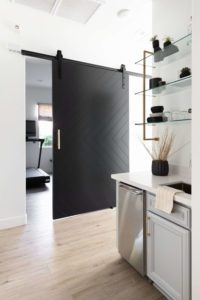 Adjacent to the kitchenette, we aimed to increase the value of the home by transforming the former office into a bedroom by adding a closet and custom-made door.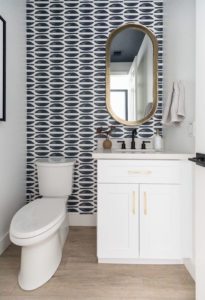 This powder bathroom's transformation might be one of our favorites! Formerly featuring an outdated bird wallpaper, we brought an elevated and modern feel back into the space with new wallpaper, a vanity, a gold mirror, and matching hardware.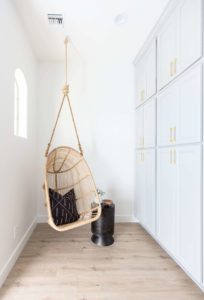 Doesn't this corner make you want to have a seat and swing a while? To maximize and add purpose to this empty space in the home, we styled a hanging chair and table. We also updated the existing cabinetry by adding fresh paint and hardware.
Refreshed Kid's Bathroom
Similar to other spaces in the home, we opted to keep the original vanity in the kid's bathroom and add a fresh coat of paint. From there we added new hardware, plumbing, and mirrors to match.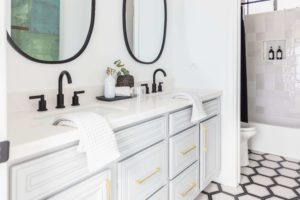 Rather than extending the luxury vinyl floors into this space, we opted to demo the floors and add a fun hexagon tile. We completed the space with new shower tile as well!
Stunning Family Room Designed for Function and Form
Did anyone else's jaw drop when they laid eyes on this space? We love how the basalt stone, pop-out fireplace we added gives this family room a point of interest and intention. Flanking the electric fireplace, we removed some of the pre-existing built in cabinetry and added new cabinets and floating shelves. Lastly, we tied it all together with a fun chandelier!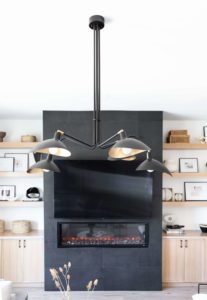 Would you believe us if we told you that this room originally had a window where the artwork is hanging? To improve functionality of the space and create more area to work with, we applied an opaque film to the window that then drywalled over. From the exterior of the home, it looks like the window is closed by draperies, and from the interior, you can't tell there is a window there at all!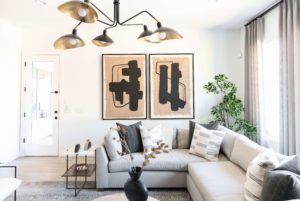 In the remainder of the space, we styled some side tables, chairs, a custom sofa, a faux potted tree, and floor-to-cieling custom drapery to accentuate the height and space in the room. We love the unique and elevated look the custom pieces added to the interior!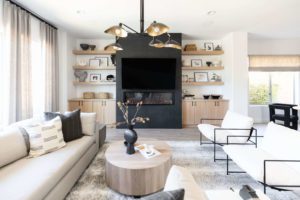 Interested in working with us on your next project? Click here to send us a note about your project!