Project Reveal: Fanfol Pt 1

For the past few months, we've been sharing sneak peeks on social of our latest Paradise Valley remodel project. We are so excited to finally begin unveiling this project's full reveal on our blog. Read on to explore our Fanfol Project!
A Entrance Worth a "Wow"
At Living With Lolo, we know how to make a grand entrance. Upon entering the home, we aimed to draw attention to the interior's high ceilings and architectural detail by adding black paint for contrast. To further draw the eye upward, we added a stunning chandelier with brass detailing and crystal-looking pieces made out of alabaster. We can't get over the "wow" factor it added to this space!
For the remainder of the entryway, we stuck with a neutral palette and styled a black and white rug, custom upholstered bench, and a console cabinet. This cabinet balances beautiful and functional as its storage is perfect for items that our clients can quickly grab as they head out the door.
On top of the console cabinet, we styled two abstract, brass mirrors, which we opted to hang from the wall on one side and rest on the table on the other. In the reflection of the mirror, you'll notice a beautiful textural piece we ordered. Handmade with wool, this detail goes down as one of our favorites we styled in this home.
Incorporate Shapes for Added Design Interest
Whether it's an arched cabinet, mirror, or circular side table, we love incorporating unique shapes into our client projects for added interest. Adjacent to the custom, upholstered sectional topped with custom pillows, we styled a stunning circular side table made out of shag green and marble. Peeking out from behind the sofa is a stunning, arched glass cabinet, perfect for displaying treasured items and luxe details.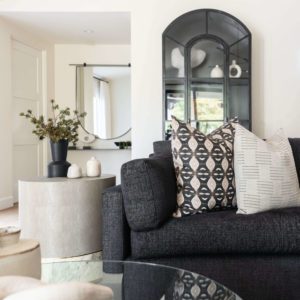 For the interior's centerpiece, we added a custom wood and glass coffee table that mirrors the circular structure of the nearby side table. To complement the neutral pieces throughout the space, we added neutral artwork and hand-finished leather chairs filled with design-forward details.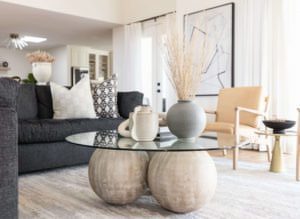 The Mid-Century Modern Dining Room
Outfitting the large black table in this project's dining space, we added ten mid-century modern leather chairs. We can't get over how beautifully sculpted the oak frames and float-like cushions look!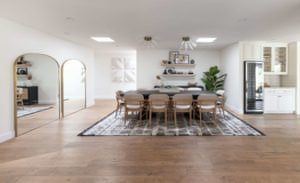 Reminiscent of the brass and crystal-like chandelier in the home's entryway, we also added two flush mount fixtures made of brass and crystal above the dining table. Wouldn't you like to be invited to a dinner party in this space?
Behind the dining table, we included a cane and wood sideboard just below custom floating shelves, which we styled with neutral accessories and artwork. 
Don't Forget the Backyard
Is there anything better than a summer getaway in your own backyard? We furnished our clients' outdoor area by adding a cement dining table and metal chairs with custom rope detailing. When selecting this furniture, we made it a priority to ensure the pieces would be long-lasting and durable enough to withstand the Arizona climate.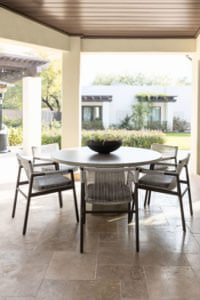 We hope you enjoyed part one of our Fanfol Project reveal! Follow us on Instagram and subscribe to our newsletter to be notified once part two is live.
Interested in working with us on your next project? Click here to send us a note about your project!