If you're looking to add visual interest and a pop of texture to your interior, look no further than fluted materials. An ancient technique used in architecture, this design trend is comprised of shallow grooves along a single surface. The resulting clean lines are a delicate way to bring balance and height into any space.
We've loved incorporating fluted materials into past interior design projects and we expect this design trend to only continue increasing in popularity this year. Read on for three ways to incorporate fluting into your home!
Fluted Furniture
A simple way to incorporate fluting into your home is through furniture. In our recent Fairway Project, we aimed to add fun elements in each room for the ultimate "wow" factor. The fluted details on this dining table was a beautiful complement to the adjacent floating shelves and linear pattern on the Roman shades. Talk about clean lines for days in this space!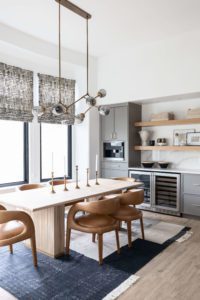 Similarly, in our 83rd Place Project, we incorporated a fluted desk that added just the right amount of detail to the space. Balancing simple and sophisticated, this piece really helped us take the look of this room to the next level. Work from home life wouldn't be so bad in a space as stunning as this one!
Fluted Cabinets
Another one of our favorite ways to incorporate fluting into projects is through cabinets and drawers! Beauty meets functional in our Trailside View Project, where we incorporated a wooden vanity with fluted cabinets. We love the modern elegance it added to the interior, while still providing the necessary storage for our clients.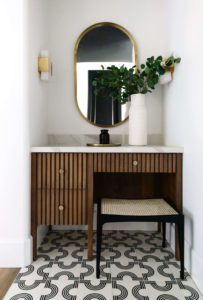 Fluted Kitchen Hood
We may or may not have saved the best example for last. In our Fairway Project, we added a fluted hood that again paired beautifully between the adjacent floating shelves. We anticipate that the hood's unique and unexpected finish will instantly turn the heads of anyone who enters the heart of this home.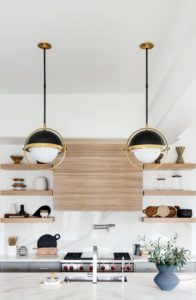 We hope you found this blog post helpful in learning more about how to incorporate fluting into your home. For more design trends, tips, and project reveals, subscribe to our newsletter and follow us on Instagram.
Cheers!
The Living With Lolo Team