Sereno Canyon Interior Design Project
Step inside our Sereno Canyon Project! With one young child and another on the way, the clients of this North Scottsdale interior design project wanted a home that was both family-friendly and chic to reflect their lifestyle.
The home itself was a new build so we had a clean slate to work with and our clients were easygoing and open to new and creative ideas. Continue reading to see how we designed this comfortably modern and uniquely one-of-a-kind North Scottsdale interior design project, Sereno Canyon.
Bench-https://rstyle.me/+f1M5FuUyOc2MtnNY0kBK5g,
Welcoming Entry
Upon stepping inside the spacious entryway, guests are immediately greeted by two sides. To the right, we added an upholstered wooden bench with brass detailing just below a complementing brass mirror. We love how the mirror not only opens up the entryway but also serves as an eye-catching piece with its dynamic angles and edges.
On the opposite side of the entryway, we added a gorgeous console made with burl wood and fluted detailing. These cabinets make the perfect space for our clients to keep any not-so-pretty, on-the-go essentials within easy reach. For a pop of contrast, we styled a piece of modern, abstract artwork to serve as the focal point of the tablescape.
Lots of Visual Interest
Throughout this project, we kept to a mostly neutral palette with clean lines and simple furnishings. However, we added visual interest through details like this artwork, as well as rugs and unique lighting.
Chairs-https://rstyle.me/+cajb8VidflvynTSKkqf7rg
Furniture With The Right Scale
Because the family room is directly across from the front door, we knew we had to create an inviting living space that truly welcomed our clients home. To best meet the needs of this soon-to-be family of four, we added a spacious custom sofa and two large upholstered chairs, perfect for entertaining.
Centering the space, we added organic-shaped coffee tables and a marble and fluted side table that ended up being one of our Principal Designer's favorite details! Can you blame her? To emphasize the home's tall ceilings, we also hung a unique light fixture between some of the beams creating contrast among the ceiling.
Kid Friendly
Because young children will be crawling and toddling around in the home, we made sure to include plenty of softness in the form of rugs, pillows, and upholstered seating, all of which are also durable and stain-resistant, and/or easy to clean.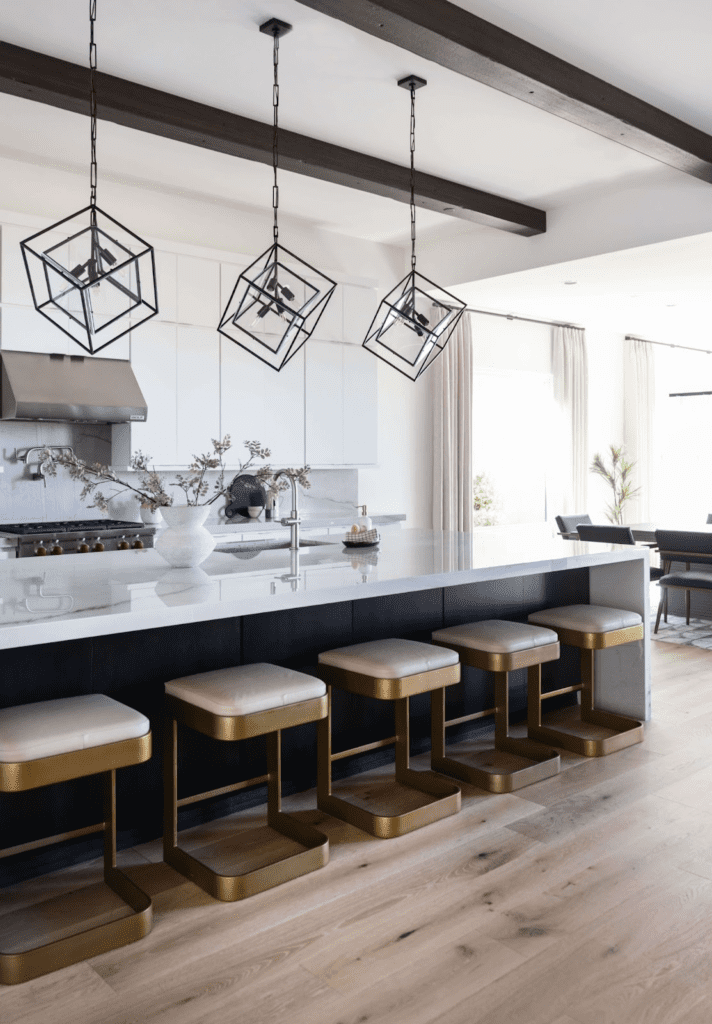 Stools-https://rstyle.me/+Mm_5_OIm13QOvrjm2CeQYw
We knew the kitchen would truly be the heart of the home for this young family, so we opted to add several brass bar stools with leather seats to ensure they'd be kid-friendly and easy to clean. For mood lighting and an eye-catching detail, we also hung three beautiful pendants above the kitchen island.
Chairs-https://rstyle.me/+KCZfnCjACqVQZkevk6uZTg
Custom Drapery
For consistency throughout the entire home, we added custom drapery that went all the way up to the ceiling and hung on cool curtain rods that expanded to the width of the windows. We love how this further elongated the look of the interior!
This particular space was so large we split it into two: the dining room and the morning room. In the dining room, we added a large concrete dining table and stunning leather and brass accented chairs. Just behind the dining room is the morning room, which is styled with the same rug as the dining room to keep the interior cohesive and pull the two spaces together.
We hope you enjoyed this glimpse inside our Scottsdale interior design project, Sereno Canyon! Interested in working with us on your next project? Click here to send us a note about your luxury interior design project!
Cheers!
The Living With Lolo Team