Project Reveal: Monte Lindo Pt 2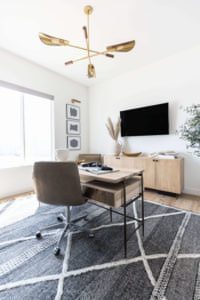 In a recent post, we began to walk you through one of our latest interior design projects. We worked closely with our clients to fill this builder grade home with unique details that set the space apart, and we couldn't be happier with the result. Read on to explore the remainder of this project!
As the owner of a local real estate brokerage, our client needed a dedicated space to dive into his craft in the comfort of his own home. We filled the home office with masculine elements throughout, including a wooden desk, table, and light fixture with brown leather details.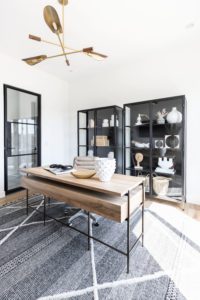 To create separation between the office and the remainder of the home, we added a glass door mimicking the iron details incorporated throughout the project. How stunning does it look paired next to those metal cabinets?
The Must Have Eclectic Dining Room Design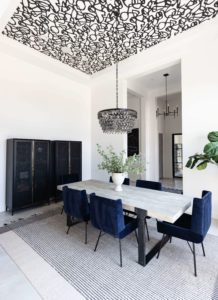 This project's dining room is filled with bold and eclectic details. Our work began in this space by first incorporating two details that were on our clients must-have list: the dining table and chandelier. For a pop of color and texture, we styled these unique pieces alongside blue velvet chairs, a striped rug, and black cabinets to tie it all together.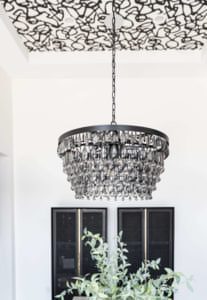 Our love for the dining room reached new heights when we chose to leverage the space's fifth wall. For an extra touch of glam, we wallpapered the ceiling! We're still swooning over how beautifully the print and chandelier complement one another.
Green with envy over this bed? Us too.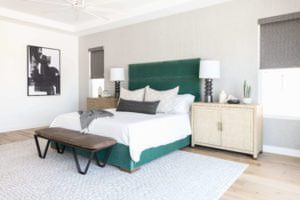 There's nothing better than clients that trust your eye for design enough to explore options outside of their comfort zone. In our Monte Lindo Project's primary bedroom, we styled this green upholstered bed as the focal point of the space. Adjacent to this piece, we added two sideboards as nightstands to maximize wall space. Lastly, after incorporating two mirroring lamps, a bench, and wall art, we kept the remaining interior details simple to really let the green bed pop.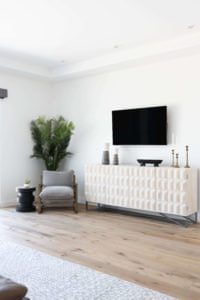 Looking at the opposite wall of the primary bedroom, we doubled function and beauty by incorporating a sideboard with beautiful detailing for extra storage. We styled the corner of the space with a faux plant, accent chair, and a black side table for an extra pop of visual interest. Don't the details in this corner draw you in?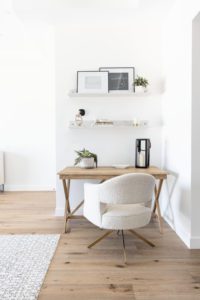 Moving along to the desk area in the bedroom, we love the subtle, yet striking detail this textured chair added to the space! To fill the remainder of the corner, we styled floating shelves and a few of our favorite accessories.
The His and Hers Bathroom that Everyone will Want!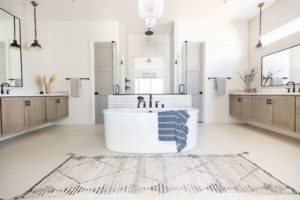 One challenge we faced when designing the primary bathroom of this builder grade home was styling the vanities, as one side has a window and the other does not. To work around this, we had a local metal company custom make two different sized-mirrors for this interior. The larger, vertical mirror was styled on "Her" side, while the horizontal mirror was styled on "His" side. For symmetry, we repeated the same light fixtures on both sides and a glam chandelier in the center over the tub. Lastly, we brought warmth into the space by adding accessories, a rug, and textured wallpaper.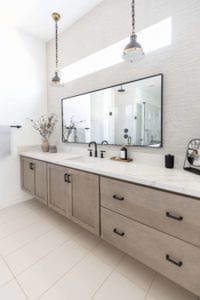 We may have saved a close up of the best detail for last. This textured, vinyl wallpaper adds just the right amount of detail without overwhelming the space. Plus, it's made of vinyl, which ensures its beauty will last for years to come, despite exposure to humidity from the nearby shower!
Interested in working with us on your next project? Click here to send us a note about your project!
Trusted Local Phoenix Area Vendors
Builder – Toll Brothers
Lighting – Sun Lighting
Furnishings – Living with Lolo
Countertops + Tile – Arizona Tile
Plumbing – Ferguson