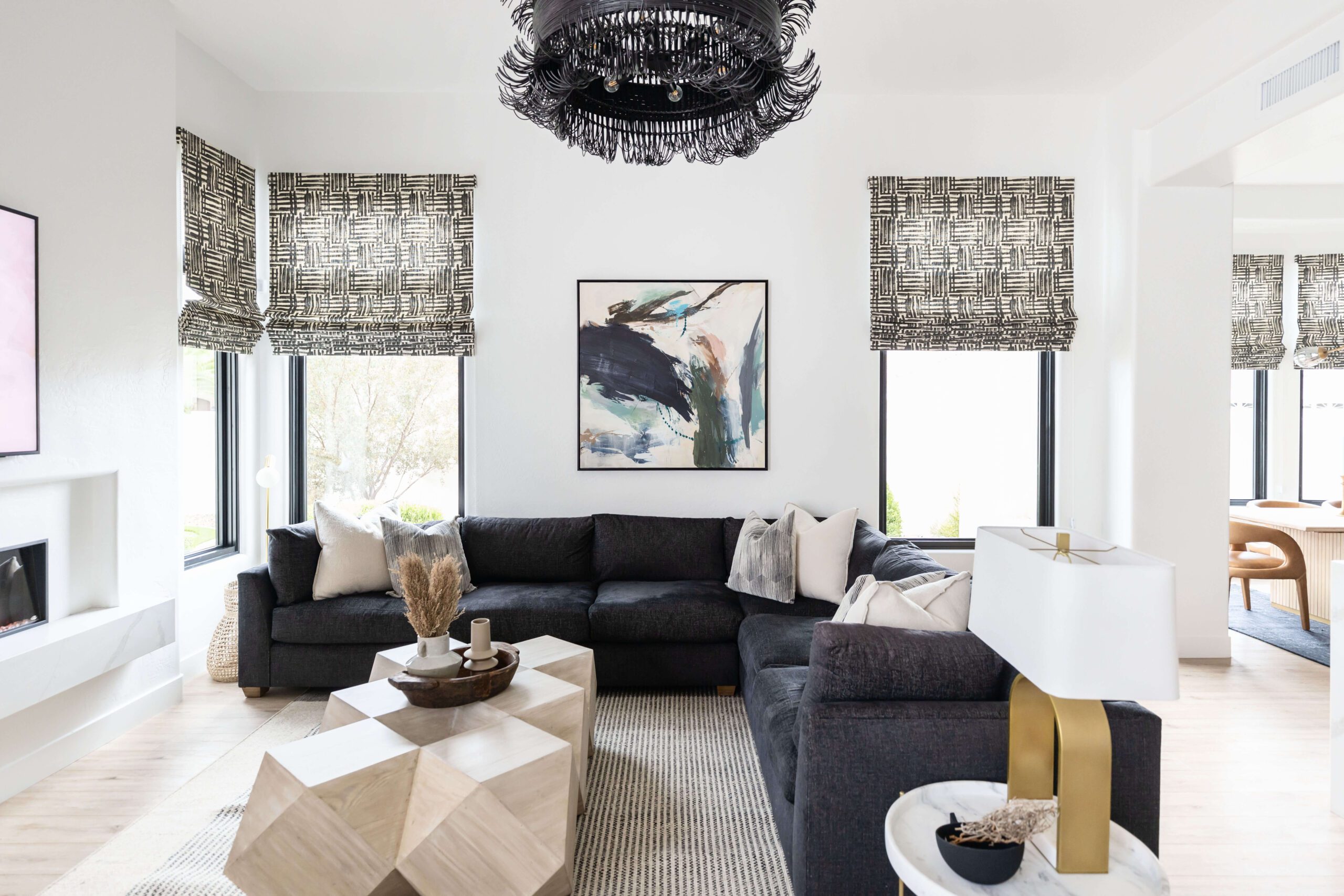 Design Ideas for Your Fresh Start

Nothing is more exciting than interior design for your new home! Picture this: you're thrilled to move into your brand new home, then, you realize — you have to decorate your entire space from scratch. Although the endless possibilities are exciting, they're simultaneously overwhelming. Luckily, you're in the right place. Read on to unlock three new home interior design ideas from a top luxury interior design firm.
Tailor Your Home For Your Unique Needs With Custom Furniture
Your new home interior design and layout may be unique. Meaning, there are new curves and corners to account for that your previous furniture may no longer be appropriate for. Sourcing custom furniture is the ideal solution to ill-fitting pieces.
In our Alyssa Lane Project, we customized a couch with a one-of-a-kind curve to accommodate the living room's layout perfectly. Not only was the shape a flawless fit, but we incorporated the perfect color and fabric for the upholstery to match what our clients wished for to a tee. Picking these customizations also allowed us to ensure that this piece was a durable fit for this family to live comfortably.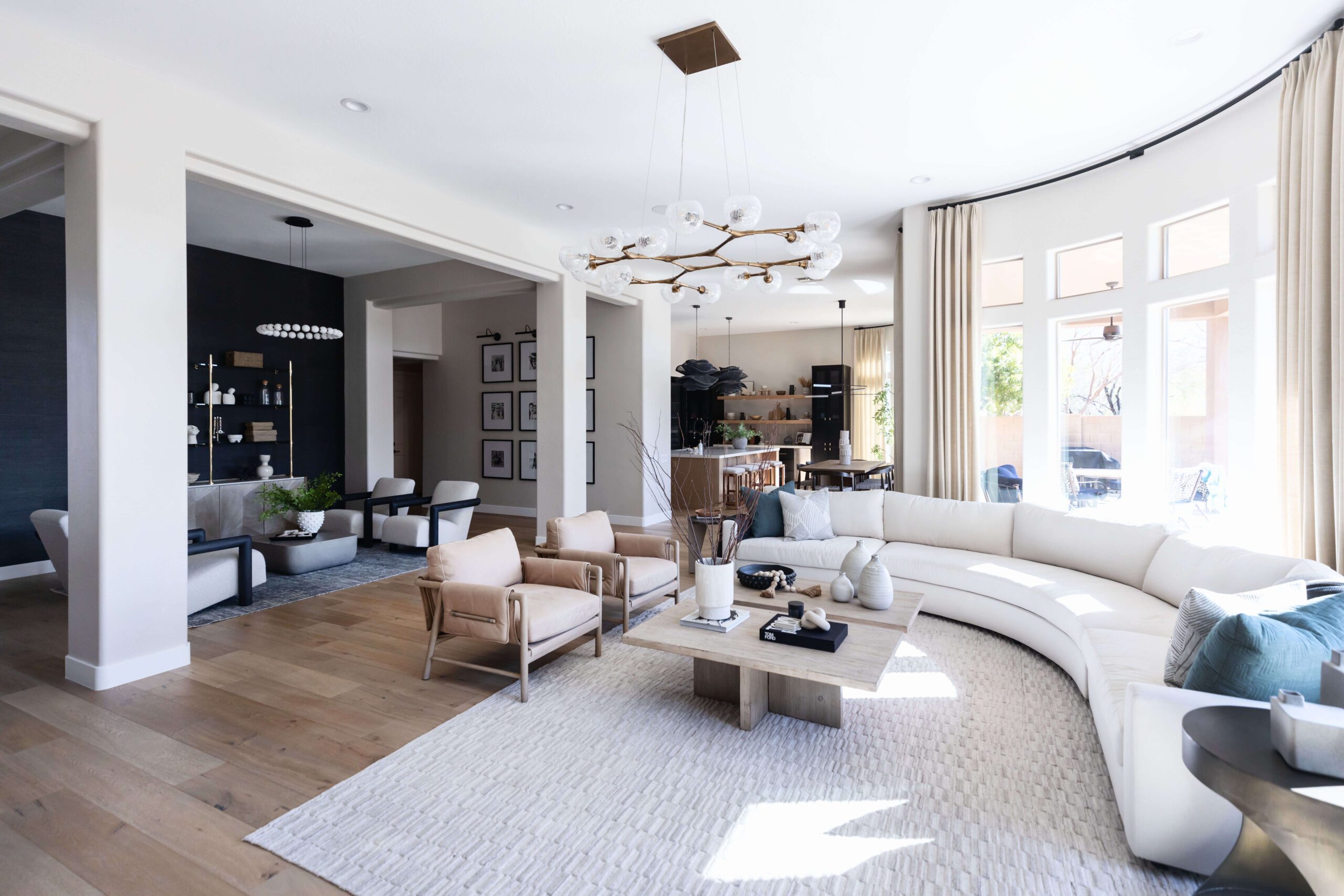 Pick A Color Scheme or Finish To Incorporate Throughout Your Home
Consistency is key in your new home interior design project! Coordinating colors, textures, and finishes from room-to-room helps tell a cohesive story and express your boldest self. No matter the style, integrating a sense of uniformity within the subtle details of your interior design will help create cohesion in the story your home tells. This can be done by using the same hardware across all the cabinetry and metalware in your home or adding the same pops of color or texture in your rooms. We utilize this strategy in every new home interior design project.
Take a look at our One Hundred Hills Project, for example. When planning its concept, we were captivated by black tones and added the hue in the details throughout the entire space. Our vision included black details in the tables, door and window frames, and beyond! We added some variation by consistently using neutral, tan shades in the cabinetry, kitchen seating, and overall decor. No matter the medium, working in a continuous color palette across rooms is the key to an intentional and consistent feel in your new home interior design.
Add Touches Of Contrast In Each Space To Make It Captivating
Creating cohesiveness in your new home interior design is essential, but you want to avoid monotony. Our go-to solution to this problem is incorporating contrast. The possibilities are infinite when it comes to strategizing distinctive decor. You can use hardware, tile, rugs, or art in any room to break up the uniformity that can result from following your chosen color scheme. 
Our Hidden Hills Project serves as great inspiration for incorporating contrast in your new home interior design project. The entire concept features a neutral color palette with an emphasis on tan and white shades. However, it showcases pops of black in the window frames and small decor pieces. To create an even more captivating design, we incorporated a burnt orange accent wall that peeks through the living room and refines the space. Adding variation through details — big or small — can transform your new home interior design project!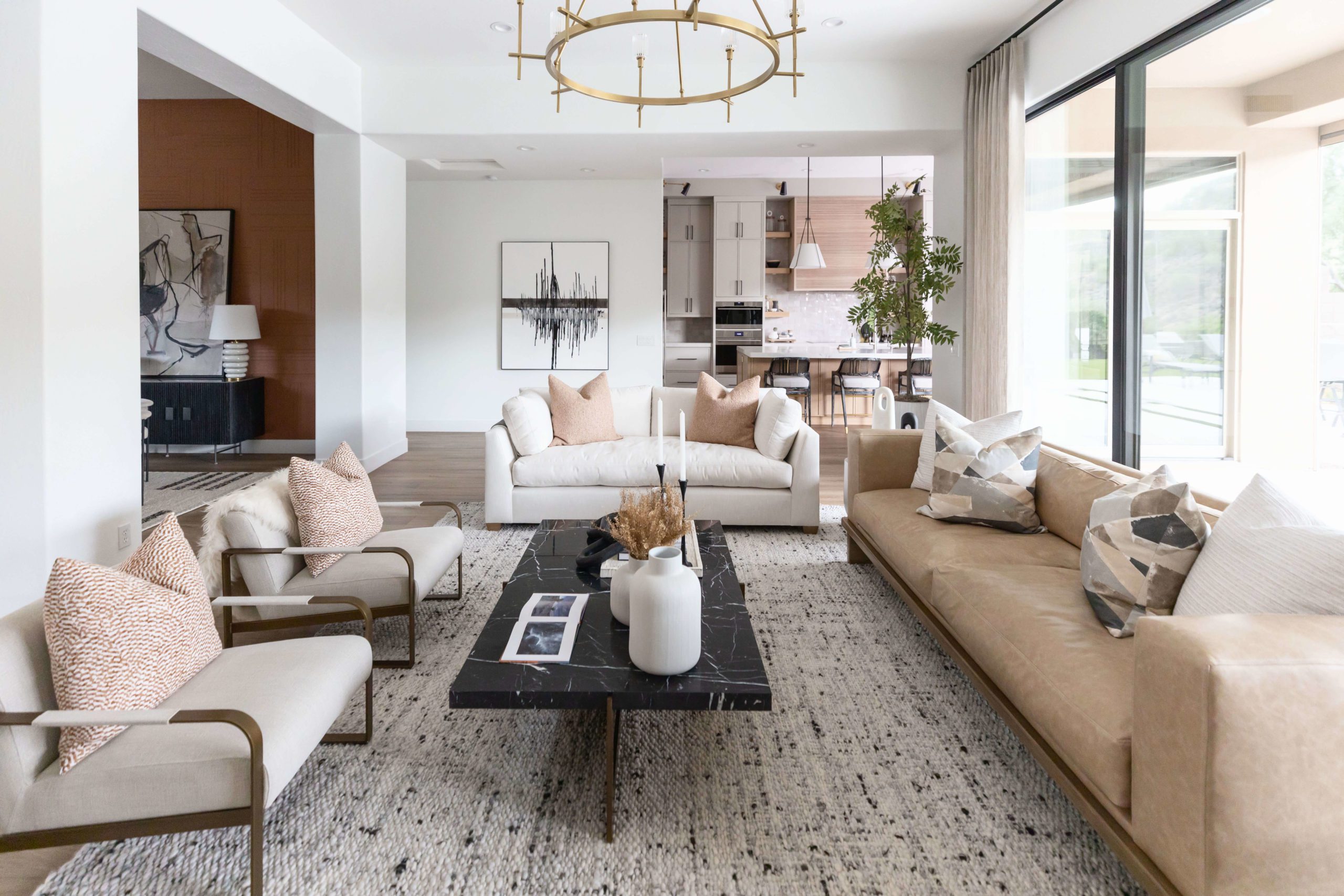 We hope this blog helped spark some inspiration for your new home interior design project! If you are looking for the more personalized assistance you deserve, we are happy to help! At Living with Lolo, our specialty is designing custom homes with exceptional service every step of the way. Our team is attentive to your needs, preferences, and budget while creating a design that suits your unique style.
Contact us today to schedule a consultation and browse our Portfolio for more inspiration. Let's make your new home interior design dreams come true together!
Cheers,
Living With Lolo