Game-Changing, Must-Have Interior Design Software Tools
Here at Living With Lolo™, when it comes to ensuring our client projects run seamlessly and successfully, we know that having the right interior design tools, systems, and processes in place is everything.
If you're an interior designer, finding a way to make your client onboarding and project management easier and more efficient (without sacrificing quality!) is the key to up-leveling your productivity and profitability. And if you're also looking to scale, it's even more important! (P.S. If you're not an interior designer, but you're looking to hire one to help you with a project in your home, read on to see how the LWL team keeps even the most complex design projects on track for you!).
Think about it this way: Using tried-and-true workflows and automations to streamline your design projects from start to finish will give you more time to work on other aspects of your business (like marketing and bringing in new business, sourcing new vendors, etc.) while still tending to the needs of your current projects.
Simplify Tasks. Improve Efficiency. Uplevel Productivity. Maximize Profitability.
In our firm, there are two interior design tools that have proven to be total game-changers. Together, they've completely transformed how we approach interior design project management and have made the operations aspects of our business smoother than we ever dreamed possible.
So what are these two interior design tools seemingly sent from the design gods? Airtable and Dubsado.
While in and of themselves, they're not specifically interior design tools, we used them to create tools customized for the unique needs of interior designers.

Interior Design Tool #1: Airtable
Having tried just about everything out there, we think Airtable is arguably the best project management software for interior designers. Using it as our primary online interior design tool, we are able to store all project information in one place and easily relay data, workflows, and sales in real-time to everyone on our team.
We know firsthand that an interior designer's to-do list can quickly become lengthy and that it's important to stay on top of even the smallest of details.  It can be a little (or a lot) overwhelming.
But we figured out a way to use Airtable to help take some of the load off our shoulders without compromising the quality of the service we provide our clients. Our system lets us use Airtable  for….
Order procurement (order placement + order tracking)
Following up on credits from vendors
Flagging things that come in damaged for easy follow-up + to make sure we get credits from vendors
Creating + tracking project timelines
Tracking projections and goals for the year
And more!
We've been developing and using this system for several years now (+$30K and many hours) and we absolutely swear by it. It has alleviated the need to have to pay for several other design programs & it is all organized in one place, saving you both time and money.   It worked so well for us, in fact, that we decided to make it available to other interior designers.
Our Your Interior Design BFF™ is a customizable automation-ready base that features our exact database with formulas already set up and ready for you to copy into your own Airtable workspace. It's the ideal solution for making interior design project management more efficient, productive, and profitable.
CLICK HERE TO PURCHASE OUR AIRTABLE BASE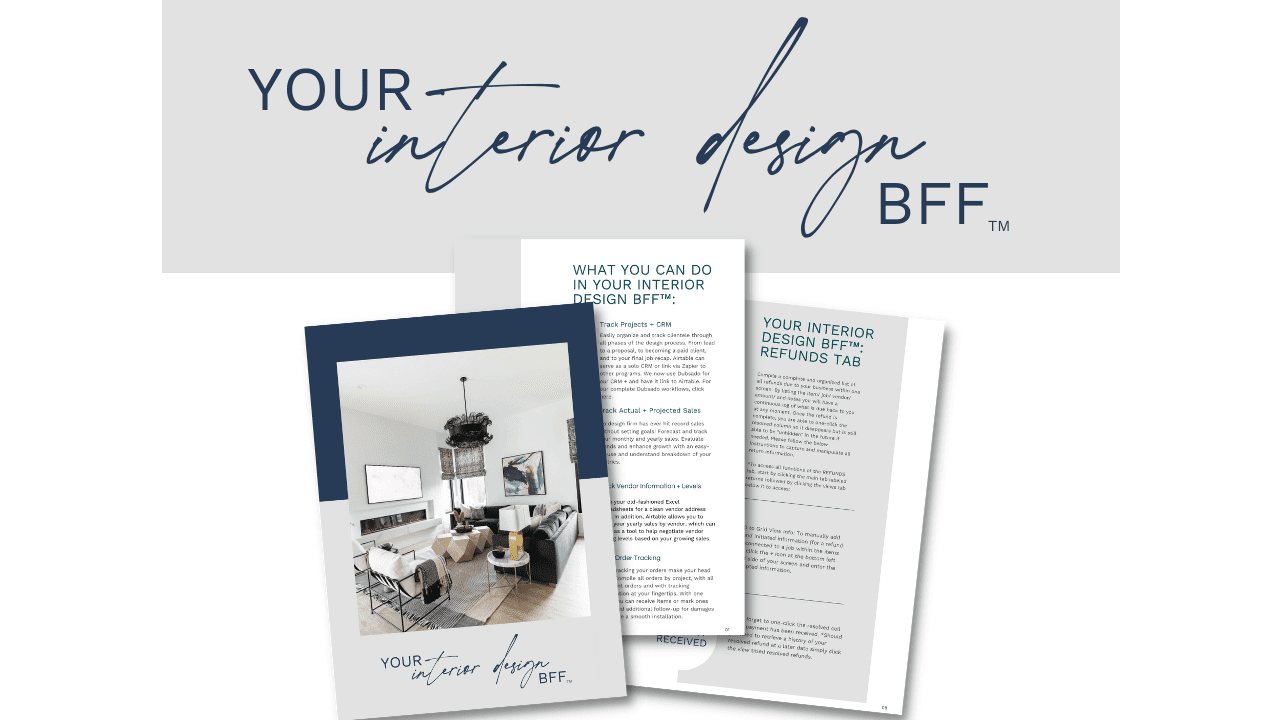 Here's a quick video demonstration of why we love Airtable !
Interior Design Tool #2: DesignFiles
The second game-changer business management solution we use in tandem with Airtable is DesignFiles.
While Airtable will serve as your complete tracking and follow-up system, DesignFiles serves as your primary platform for creating an actual design. To give you an idea of how these two interior design tools work together, as soon as a client signs our contract we start our conceptual design immediately after within DesignFiles. We are easily able to communicate with clients through this multi-user program to share concepts, receive feedback, and approve final selections.
Once all is finalized, we are able to send invoices, gain approval, accept payment if wanted via the platform, and instantly start the transfer of selections into Your Interior Design BFF™ via a quick copy and paste. Pretty great, right?!
Your Interior Design BFF™ will then be the only thing needed to streamline your process through project completion.
Just as Your Interior Design BFF™  gives us all the functionalities we wanted and needed to run a thriving design firm, we also spent countless hours over multiple years researching and utilizing various design programs available within the industry. When used in combination, your firm will act as a well-oiled, thorough, efficient, polished, professional, and highly automated powerhouse for achieving a profitable interior design business.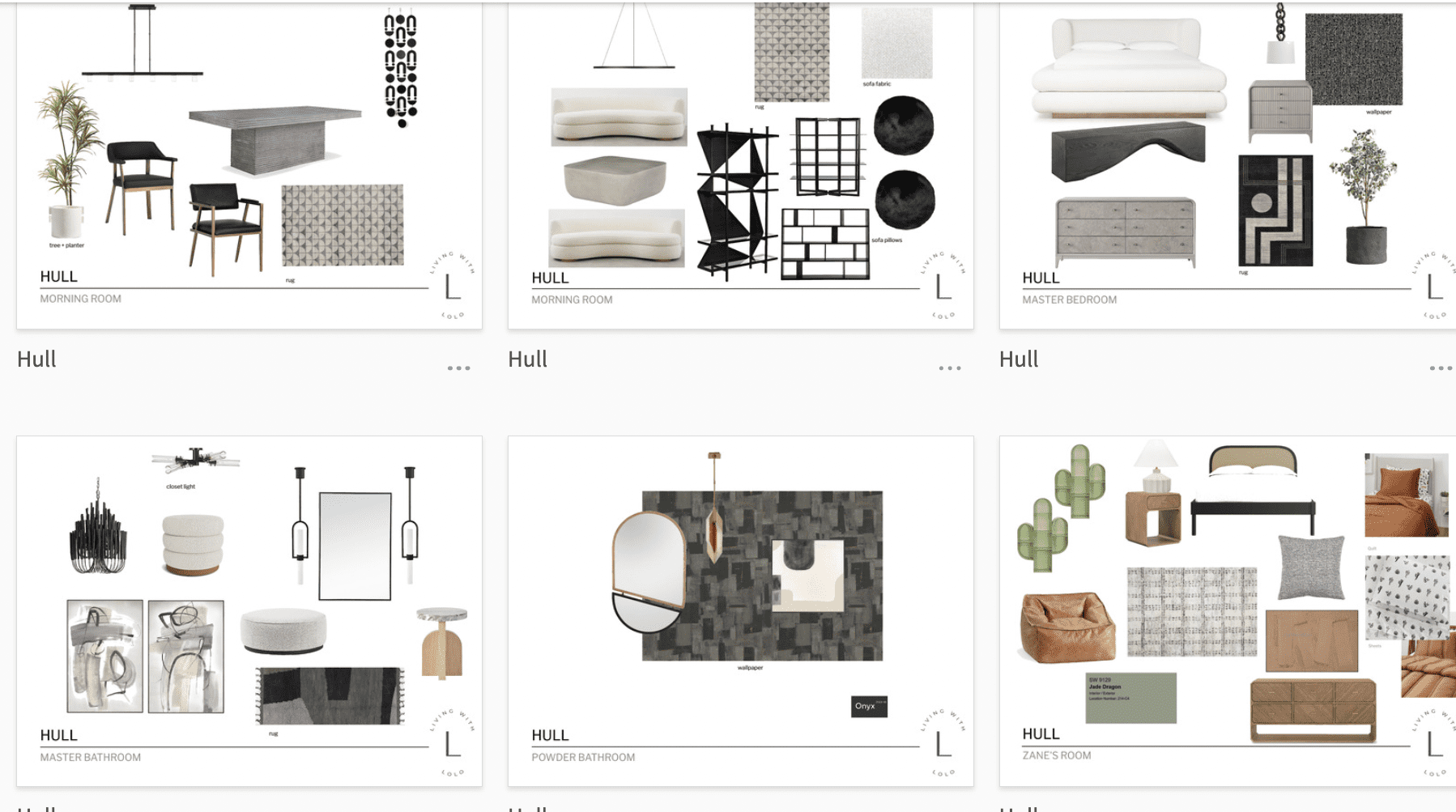 If you have been on the hunt for interior design tools to help make your projects run more smoothly and efficiently, we hope you found it helpful to learn about the interior design tools we swear by! And if you have any questions about how to incorporate these software tools for interior designers into your business, please email us at info@livingwithlolo.com and we'll be in touch.
Cheers!
Your Interior Design BFF™