FOR RESIDENTIAL INTERIOR DESIGNERS READY TO LEVEL UP
Steal The Exact Tool We Used To Build & Manage Our 7- figure Interior Design Firm
Easy To Implement Airtable Base Project Management System For Interior Designers
Uplevel My Interior Design Biz
I'm working so hard but I'm still not consistently turning a profit. I just wish I could get a look 'under the hood' of a successful interior designer's business to see how they run efficient, profitable design projects.
– L. Mager
I've looked at all the software for interior design businesses but they're all missing essential components. One has great CRM but no interior design project management. Another has killer project management but no financial tracking. I need a tool that not only has all of those components but also allows them to connect to each other with automation and at–a–glance information overviews.
– L. Mager
Even though I keep up with my bookkeeping, I can never really tell if I'm turning a profit until the end of the year when it's too late. I need a way to see whether I'm making or losing money from one project to the next so I can make adjustments then and there.
– L. Mager
YOU'RE NOT ALONE AND I'M HERE TO CHANGE THAT.
A Glimpse Into Your Future…
Ultra-organized and precise interior design project management and procurement process that encompasses all order information, status updates, and installation information within one clear Airtable base! 
Ability to effectively negotiate better pricing with your trade vendors with at a glance viewing of previous sales vs. current sales, resulting in higher margins!
Strategically analyze all metrics at project close, and adjust accordingly

 

in real time

 

to e

nsure you are achieving maximum profitability!
Save time and efficiently communicate project schedules with all team members (and trades) with a by-project shared calendar!
Not Only Is This Possible But I'm Showing You My Step-By-Step Process To Get There!
See why this designer said that "this tool is well worth over $2250!"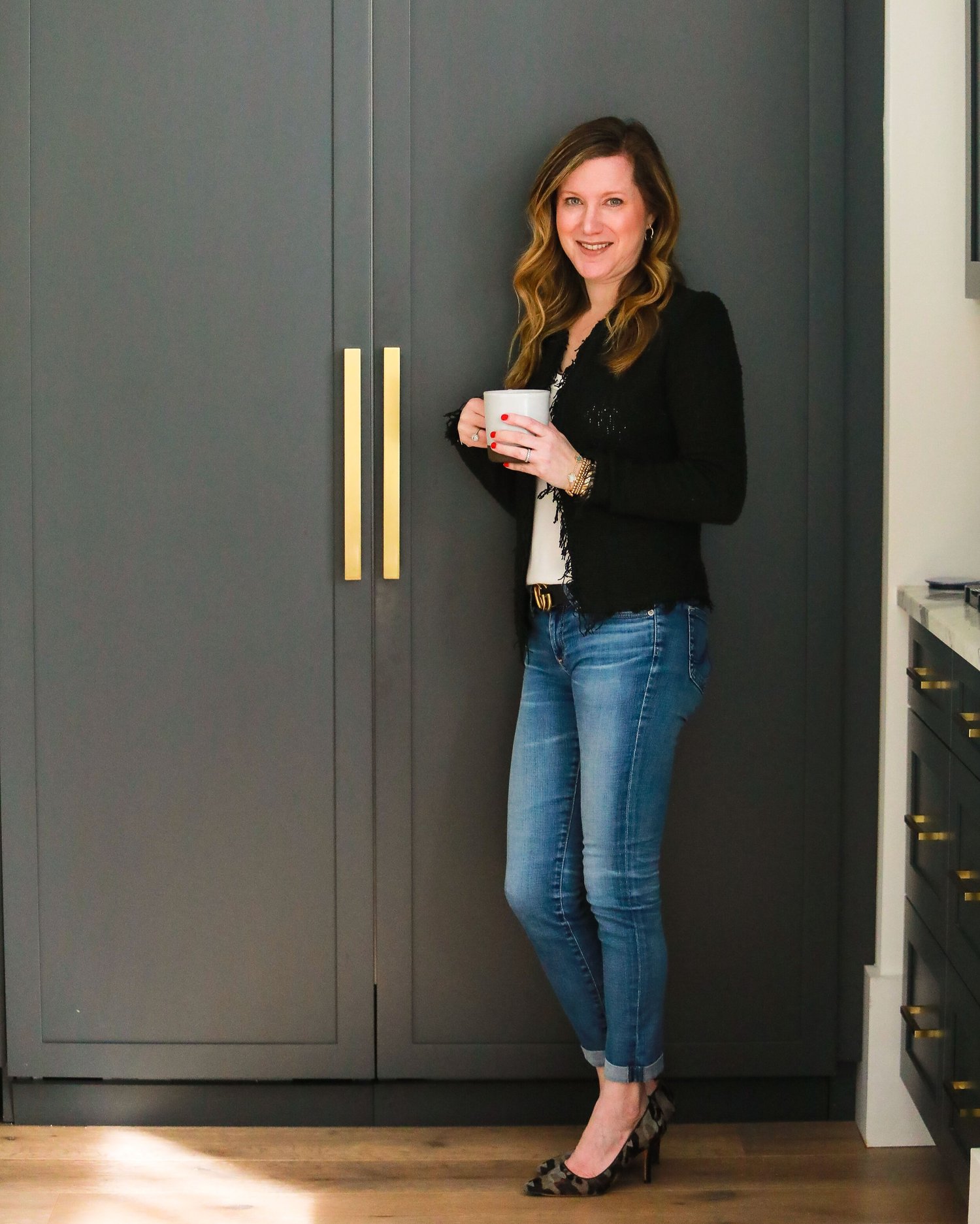 "I've been using 'Your Interior Design BFF' for my small firm and it's brilliant! I feel like we've tried it all—spreadsheets, Asana, Click-up, Monday.com, Studio Designer, Designfiles—but none of them offers the ability to have all the key project and business info EASILY AT YOUR FINGERTIPS like Your Interior Design BFF does! We are so excited as this is going to be a real game changer for us in saving time and being able to better know what's going on in the business day-to-day. This tool is well worth over the $2250 that it costs."
Julie G.
I Feel Your Frustrations!
When I started out as an interior designer, on my own at first, then with a very small team, we tried everything to get our projects running smoothly, to keep track of all the orders once they were placed, and to find more profit in the business. 
As my business scaled to over $1 million, I realized that what I really needed was an interior design project management system to capture project information and show us the exact data we needed exactly when we needed it.
Your Interior Design BFF™ is an Airtable base that gives you the tools to unlock your firm's productivity, efficiency, and profitability.
This project management system is a complete base with formulas already set up and ready for automation to allow designers to store all project information in one place and to easily relay data, workflows, and sales in real–time to their entire team. Saving you both time & money with a small investment of $2250. 
Your Interior Design BFF™ is ideal for interior design firms of all sizes and stages looking to uplevel their productivity and profitability. It's an absolute must for firms looking to scale.
Our end–to–end project data tracking, at–a–glance views, real–time financial information, and automation and customization capabilities set us apart from any other tool on the market
INTRODUCING…
Your Interior Design BFF™
FINALLY, AN AIRTABLE BASE THAT TAKES THE PAIN OUT OF PROJECT MANAGEMENT FOR INTERIOR DESIGNERS AND MAKES ROOM FOR GROWTH
Your Interior Design BFF™
Is Everything You Need To:
Simplify Order Management + Scheduling
Improve Efficiency of Tracking Damages + Credits
Uplevel Productivity 
Maximize Profitability of Every project
Everything You Want In A Project Management Tool Without The Steep Learning Curve!
Created by an interior designer so we understand all your pain points when trying to run projects efficiently & scale with fewer employees.
I've tried all the other programs/tools, so you don't have to! This tool blends interior design project management, client management & financial tracking in one program + allows you to automate your biz.
Shows numbers in real-time so that you can react quickly to maximize productivity, & increase per-project & overall profitability.
Provides insights that allow you to make smart business decisions in the moment. No more waiting until year-end to see what's really happening with your profitability.
Module 1:
Getting Down To Biz
Your Interior Design BFF™ is an affordable and straightforward program, that provides a strategic and foolproof Airtable base to set you up for success in minutes! 
We provide you with video lessons on:
how to copy our Airtable base into your Airtable workspace
how to duplicate our automations within Airtable
Module 2:
The Nitty Gritty
Your Interior Design BFF™ will take your interior design business from manageable to the next level!
Step-by-step instructions on how to:
Track all of your leads (with a built in CRM) through every part of the process
Forecast your revenue by month and by revenue stream
Know the profitability of every project, in real time

Track orders (what has been received, what you are still waiting on & what has been delivered to your client)

Track damages + refunds owed to you by your vendors
Track sale volume by vendor to be able to negotiate better pricing
Manage contractors + trades schedule at ease
Module 3:
On A Roll!
We've been in your shoes and understand the pure excitement of a new and much-improved operation!
We provide additional tools that will enhance the functionality and evolution of your design firm even further with tutorials on:
Using Zapier to further automate your business by connecting Airtable to other programs that you might be using.  
How we prep for project installs using Airtable
How you can further customize the base to meet the unique needs of your firm.
60-day money-back guarantee.  If you follow the program as instructed, if you go through all the modules, if you have at least 4 client orders input, and if you don't have better productivity in 60 days – we'll GIVE your money back. 
Hi! I'm Lauren.
We did a thing! We could have patched together three or four separate tools to achieve something kind of like what we needed, but between the costs and the clunkiness, that wasn't an ideal solution… so we created it instead.
We came up with Your Interior Design BFF™, a customizable, automation-ready Airtable base, pre-loaded with formulas to return the data you need to run your interior design business efficiently.
To be honest, we never planned on offering this tool to other designers. We created it for ourselves alone. But here's the thing:
It worked.
As in, it REALLY worked! In less than five years, we grew into a multi-million dollar firm with just a three-person team. From what we hear, that's pretty rare, and we know beyond a shadow of doubt we couldn't have done it without this tool.
We firmly believe in the idea that 'a rising tide lifts all boats' and we want other interior design firms to succeed to. So we've decided to make this tool available to designers just like you for only $2250. You can make that back that small investment by managing a single product inside Your Interior Design BFF™.
"Your Interior Design BFF™ has been an invaluable resource for running my small business efficiently. It has allowed me to ensure that no client, order, or item slips through the cracks. It has saved us time, money, and most importantly, our sanity! I highly recommend this valuable business tool, whether you are working as a solo entrepreneur or have a team of twenty. Your Interior Design BFF™ will help you streamline your backend, freeing up time to allow you to spend more time in the creative aspects of your business."
Casey P.
"Your Interior Design BFF™ has exponentially streamlined our communications and furniture tracking! Previously, we were using Google Sheets to track furniture and had to cross-reference information from 3-4 different sources. Now everything from financial breakdowns to Eta's and repairs can be easily tracked and neatly displayed with just a few clicks. It hits the sweet spot between robust and user-friendly, and it's my favorite tool that we use."
Cheyenne A.
"This program is a complete game changer. I love the color coding and ease of the program to teach to others in our firm. My favorite part is always knowing where everything is at during the project!"
Meg B.
WHAT DO I GET in your interior design bff™?
---
Easy to install + use AirTable Database–Simply copy to your AirTable account
Tabs for projects, items, sales, orders, project scheduling, + sales forecasting
Video tutorials for the database that includes how to use each tab, and how to turn on automation
PDF instructions to guide you in the installation of the database and automations
Built-in CRM capabilities (or works together with outside CRMs such as Dubsado for full CRM + project management process)
Track actual + projected project sales as well as vendor info + sales numbers (to negotiate better pricing)
Item/order tracking (we make many notes under the comments in each item so we can update and adjust our install date accordingly)
Customizable database for your specific needs, including integrations to other programs you are already using
At–a–glance views for key info (outstanding Items, unpaid Invoices, pending vendor refunds, etc.)
WHAT CAN I DO in your interior design bff™?
---
Store all project information in one place
Easily relay data, workflows, and sales in real-time to your team
Easily track items and document damaged pieces
Easily and efficiently follow up on unpaid invoices
Easily and efficiently follow up on outstanding vendor credits and damaged items
Seamlessly onboard clients and manage projects
Keep projected sales in front of you for planning and goal setting/tracking purposes
Quickly and easily create and track project timelines
Easily and efficiently schedule contractors and trades
Minimize or eliminate the cost of hiring someone to track orders
Works in tandem with our Dubsado workflows to run projects with maximum efficiency
Gives you the tools to improve cash flow by making outstanding payments readily visible
Facilitates planning and goal tracking by showing year–to–date revenue, costs, and profit
DO YOU OFFER A DEMO BEFORE I BUY?
---
I'm not sure I want to use AirTable. Does this database work on other systems?
---
This Airtable base does not work in other programs. Airtable is simply the best database management system for Interior Designers.
I use DesignFiles, does this program work with it?
---
Yes! We use DF too! We have a tutorial inside our lesson modules that specifically teach you how to use our program alongside DF + we spill the beans on the exact process we use for both!
I AM A SMALL FIRM AND THIS IS A LOT TO INVEST. WHY SHOULD I DO IT?
---
Better margins. Smoother project management. Fewer mistakes. Fewer people to hire. Accurate numbers. Fewer unpaid invoices + lost reimbursements. This will allow you to add additional projects to your plate (without losing your mind!) which will pay for itself two-fold. Protect your peace, by running and scaling your business as efficiently as possible so you have more time to do the things you love!
IS THIS THE ONLY TOOL YOU USE IN YOUR BUSINESS?
---
While no single tool does absolutely everything, this one comes closer than anything else we've seen. For our complete business management, we use Airtable together with Dubsado (for lead tracking, invoicing, and client communications), Design Files for design boards, and Quickbooks for accounting.
I'M NOT FAMILIAR WITH AIRTABLE. HOW HARD WILL IT BE FOR ME TO LEARN HOW TO USE IT AND THE DATABASE?
---
You don't need any experience with Airtable to use this system. It's easy to install- you simply copy to your own Airtable account. Our video tutorials (included with the database) show you exactly how to use each tab for your day-to-day tasks.
Why can't I create an airtable database myself?
---
While this is certainly possible to do, it has taken us 2+ years and over $30K to get the database to where it needs to be to efficiently manage our business. We wish we could have had a database like this to implement years ago, and could have spent more time on additional projects + generating more business. Why reinvent the wheel when you don't have to?
Do I have to link it to other software tools like Dubsado in order for it to work?
---
We've found for ourselves that connecting the Airtable database with our other systems in specific ways allows us to get the most out of all the tools we use. That said, you can choose to utilize some, all, or none of these suggestions. We're simply recommending what we know has worked for us in our design firm.
INTRODUCING…
Your Interior Design BFF™
FINALLY, AN AIRTABLE BASE FOR INTERIOR DESIGNERS THAT TAKES THE PAIN OUT OF PROJECT MANAGEMENT AND MAKES ROOM FOR GROWTH
Your Interior Design BFF™
Is Everything You Need To:
Simplify Tasks
Improve Efficiency
Uplevel Productivity
Maximize Profitability
Privacy Policy. ©Copyright 2022