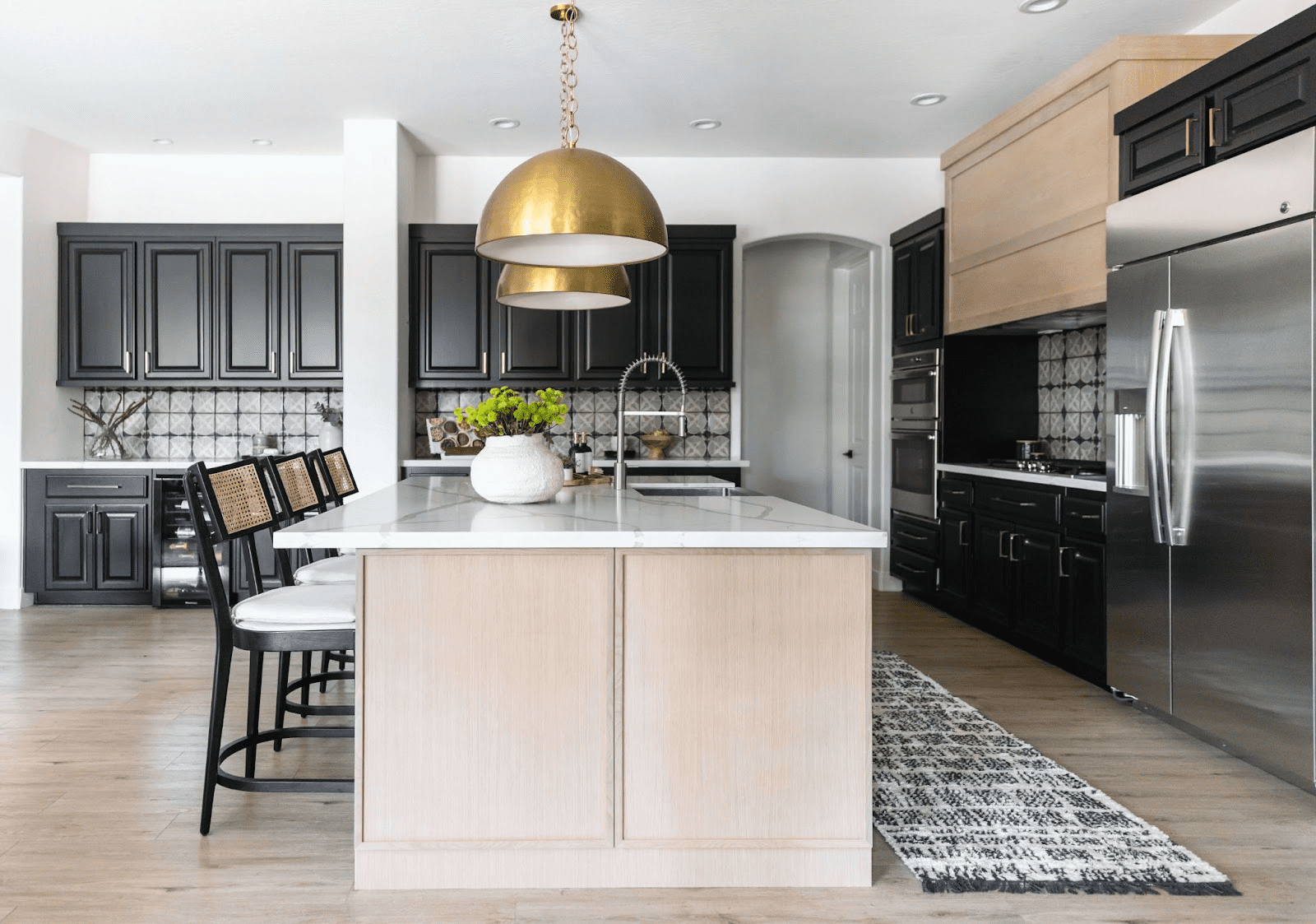 Kitchen Remodel in Phoenix, AZ
FULL-SERVICE INTERIOR DESIGN FIRM | KITCHEN REMODELING IN PHOENIX AZ
Are you looking to build the kitchen of your dreams? We know that the kitchen is the heart of the home, and we can help you transform it into an exceptional space. Whether you're looking for a complete kitchen remodel or to elevate your current kitchen, our award-winning Scottsdale interior design team has you covered.
We believe that every homeowner should have a state-of-the-art kitchen that reflects their unique tastes, without compromising its functionality or your budget. With a vast portfolio of interior design experience that exhibits client's individual tastes, we are pleased to provide a remarkable kitchen remodel experience that is tailored specifically for you.
At Living With Lolo, we know that our clients deserve nothing but the best, especially when designing the space of their dreams. Continue reading to learn more about the kitchen remodeling process and the kitchen remodel services we offer. Let us help you make your interior design dreams come true!

"They're professional, responsive, and great at what they do! In addition to being experts at creating the perfect blend of styles and colors to make spaces look both relaxed and polished, they're able to handle all the moving parts of big design projects and advocate for their clients' best interests." Deb M.
– R. Vaughn
Comprehensive Kitchen Remodeling Services
We offer a vast range of comprehensive kitchen remodeling services. Our kitchen remodeling and design process starts with a consultation where we get to know you and your design goals, first and foremost. Following the consultation, we'll set up a meeting in your home to better understand the space. Once we have an idea of the goals of your project, we'll proceed with fixture and appliance selection, appliance installation, and finally painting and finishing.
New Cabinets
Selecting new cabinets for your kitchen remodel has the power to completely transform your space from dark and dull to bright and modern. The incredible relationships we have with our vendors make it that much easier to work with clients to choose the perfect new cabinet finishes for their kitchen remodel. At Living With Lolo, we take pride in hand picking the best finishes for our clients that fit their day-to-day needs as well as their design goals.
Our team of skilled designers understand the importance of bold luxury and functionality. When remodeling a kitchen and choosing new cabinets, we make sure to take into account the type of home and the needs of the client. When choosing new cabinets, we'll walk you through all of the options and give thoughtful and professional guidance to make sure the kitchen remodel is perfectly suited to your needs. Lastly, the new cabinets will be installed seamlessly by our talented team and partners, so all you have to do is sit back and enjoy.
Sinks and Faucets
Living With Lolo is committed to providing the best service on the market by assisting our clients in finding the perfect sinks and faucets that seamlessly blends with their daily routine and design goals. Our expert team understands that kitchen sinks and faucets are dependent on each individual clients unique lifestyle and tastes. Our team ensures that we offer our clients personalized recommendations and guidance throughout the selection process.
At Living With Lolo, we make sure to go above and beyond to make sure that our clients are completely satisfied with their choice of sinks and faucets. It's important that we take into consideration the specific lifestyle of each clients, such as cooking habits and design aesthetic. Additionally, our vendors have a wide range of options to suit every taste. With our extensive product knowledge and attention to detail, we'll guide you in choosing the ideal sinks and faucets that not only enhance the functionality of your kitchen remodel but also complement your unique style and design preferences.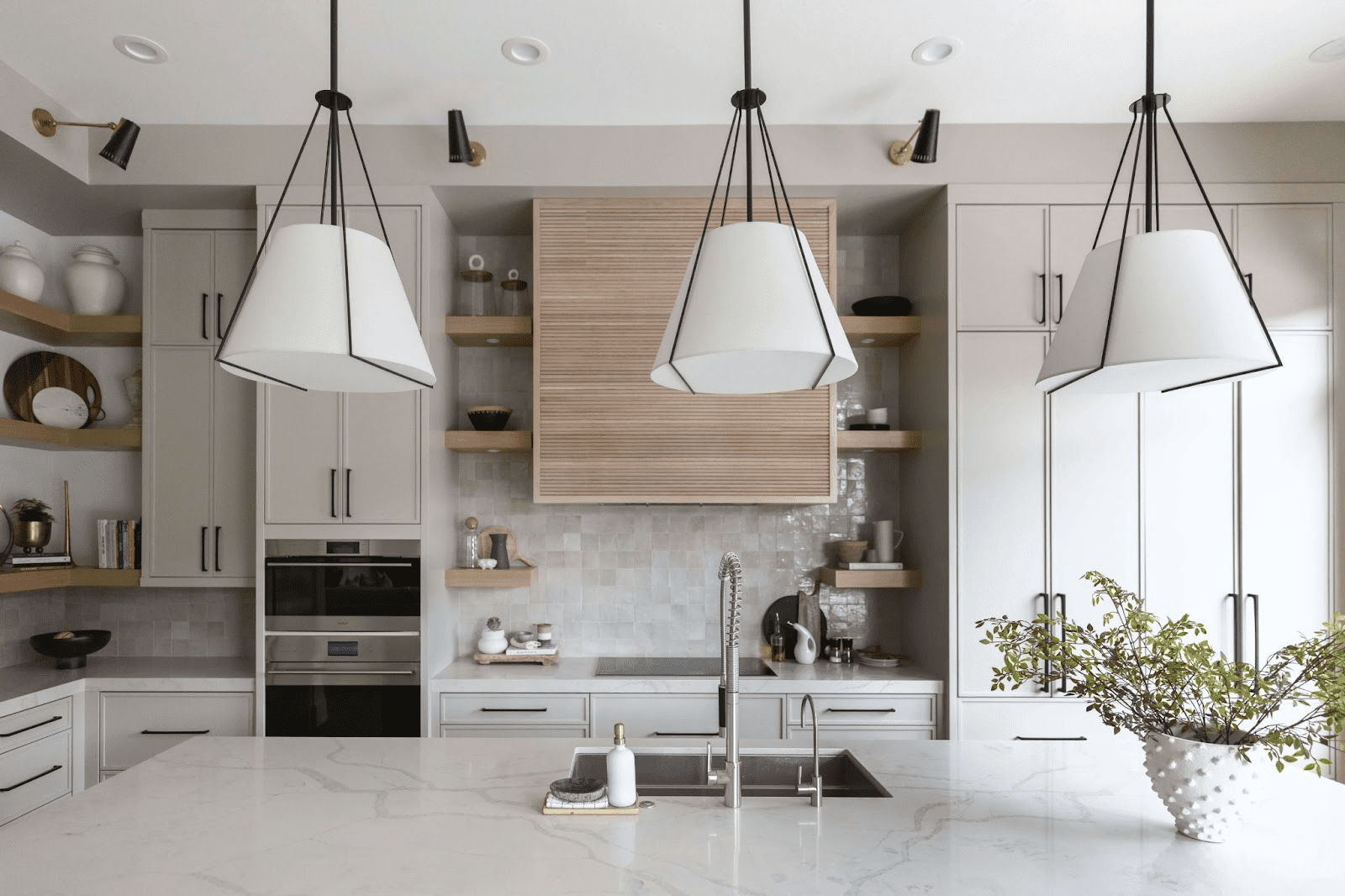 Modernized Countertops
Living With Lolo's expertise doesn't just stop at helping clients find the perfect sink and faucet for their kitchen, we also have the ability to assist with handpicking modernized countertops that perfectly fit our clients dream design. With ever-changing trends in the market, it can be challenging to stay current on the latest materials and styles in kitchen countertops. However, our team stays current with the latest innovations and materials in countertop design, and we take pride in sharing that knowledge with our clients.
Our team will recommend the most modern countertop options available on the market for their kitchen remodel. We take time and care to consider each of our client's lifestyle, cooking habits, design goals, and general knowledge of each material's durability and maintenance. At Living With Lolo, we help our clients choose modernized countertops that best fit their needs. Our personalized approach ensures that every client finds a countertop that is not only functional but also aesthetically pleasing and a perfect fit for their unique kitchen remodel design.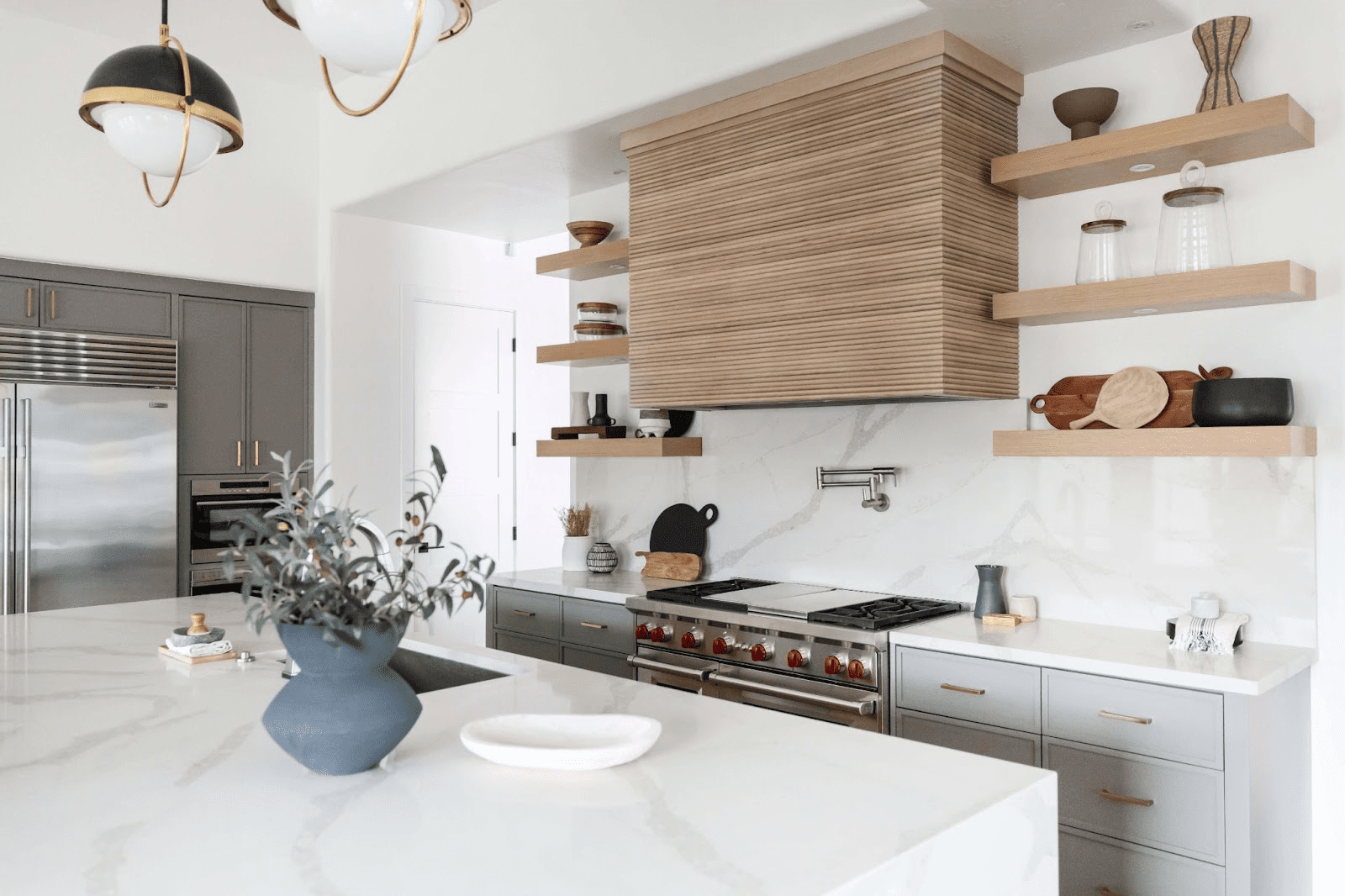 Flooring 
When it comes to helping our clients achieve their wildest home renovation and interior design dreams, we like to start from the ground up. This is why flooring is another incredibly important aspect to kitchen design. For a kitchen remodel in Phoenix, AZ, our team works closely with each of our clients to get to know their unique lifestyle, routine, and design goals. We will also consider factors such as material durability, ease of maintenance, aesthetics, and budget constraints, and see which option best fits the needs of each client. Whether you're looking for elegant hardwood, tile, or eco-friendly laminate, we make sure that our vendors have a wide range of options available. We make sure that the flooring of your choice blends seamlessly into the kitchen remodel and fits your lifestyle perfectly. We have the ability to transform your kitchen into a space that's not only visually stunning, but also practical and tailored to each specific client. 
Paints and Backsplashes
We're committed to guiding our clients through every aspect of transforming their home. Our detail oriented team takes into account the specifics of each space, down to the paints and backsplashes in the kitchen. We understand how drastically the choice of paint color and backsplash design can alter the kitchen remodel. With our expertise in design aesthetics and color coordination, we help our clients find the perfect paint color and backsplash combination to perfectly fit the personality of their dream kitchen. Whether it's sleek subway tiles, intricate mosaics, or contemporary glass panels, we will work with our vendors to create a diverse range of options that align with our clients' style preferences. 
Additionally, we pride ourselves on offering valuable advice on paint colors that harmonize with the chosen backsplash, cabinetry, and countertops, ensuring a cohesive and visually appealing transformation. By providing expert guidance and access to the best paints and backsplashes available on the market, Living With Lolo helps our clients achieve a truly remarkable and personalized kitchen remodel.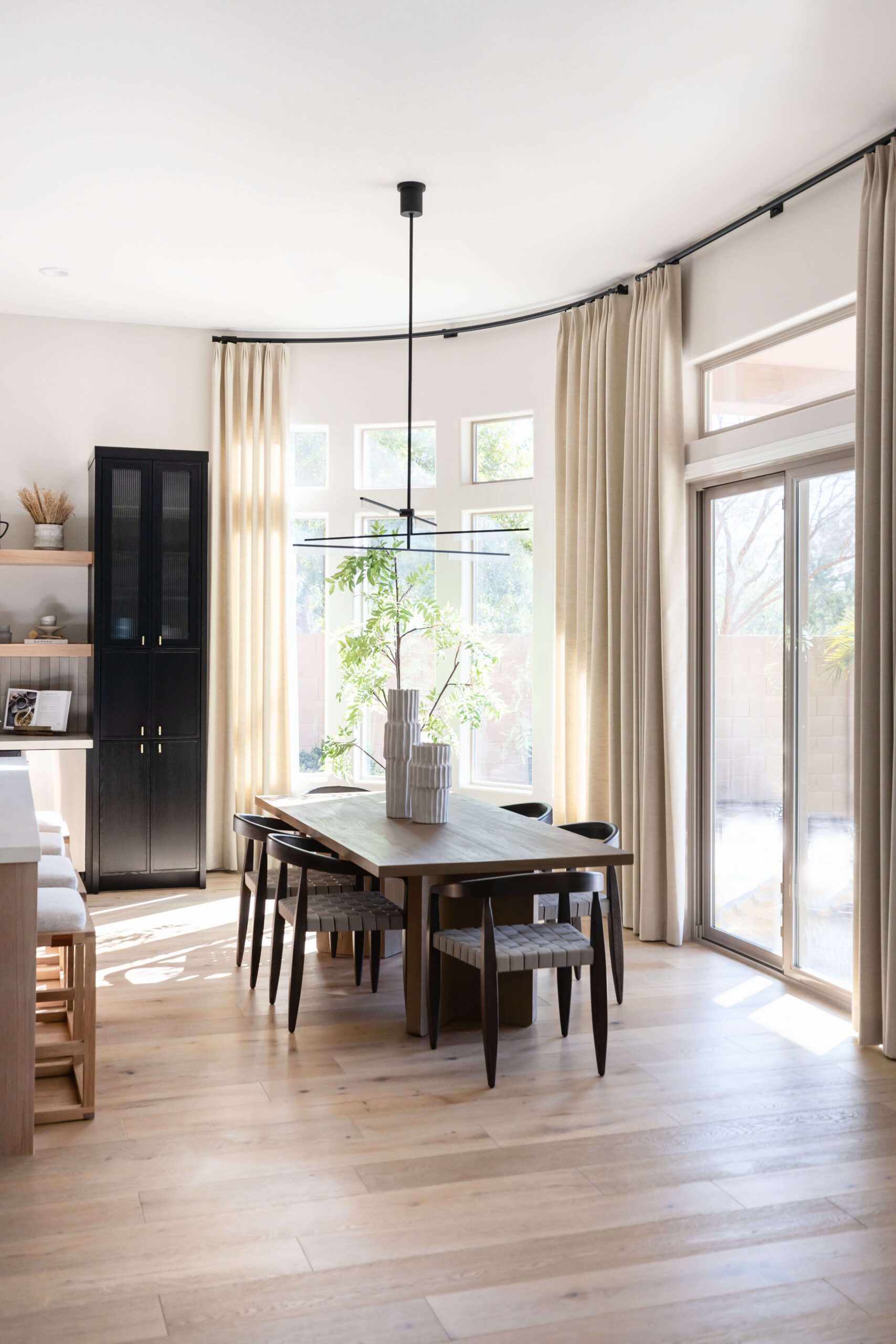 Satisfied Customer Reviews and Testimonials 
Our clients are at the core of everything we do at Living With Lolo. Our clients feel this when we work side by side to create their ideal kitchen remodel. Whether you're looking to revamp a room in your house or undergo a major renovation, Living With Lolo will be there to guide you through every step of the way. 
Our website highlights a few of the many satisfied customer reviews and testimonials we have received from clients over the years. One customer, Jacklyn, said:
 "I had an excellent experience while working with Living with Lolo and I couldn't recommend them enough to anyone who's looking for an Interior Decorator. We were making a long distance move to a home we purchased virtually we weren't bring anything other than our clothing and we had a tight timeline to get everything done. We worked with Lauren and Ashley over Zoom, Email, Text, & Phone during the entire process and they were always very clear and direct leaving no room for error during this project. When a couple of items weren't going to be delivered by our arrival date they went the extra mile to find comparable replacements that would arrive in time for our install. When we arrived at our house for the first time we were blown away and immediately felt right at home. I highly recommend Living with Lolo and would use them on any future projects we might have!" 
– M. Broughton
This is just one example of satisfied customer reviews and testimonials we have received from clients. We take pride in the relationships we form with clients and take inspiration from the unique tastes and design choices we have come across when designing an abundance of luxury homes in Phoenix, Arizona. To view more, you can read all of our client testimonials here. 
Custom Kitchen Remodeling Ideas in Phoenix, AZ
In need of custom kitchen remodeling ideas? At Living With Lolo, we help you transform your kitchen from an ordinary space, to a modern, sleek luxury kitchen. We believe that all of our clients deserve the best of the best in home design, and strive to create the space they've always wanted. Our expertise and attention to detail have the power to seamlessly blend together all of the elements of the home, making it a comfortable and cohesive space to perfectly fit your lifestyle needs.
Incorporating Your Personal Style
The first custom kitchen remodeling idea is to incorporate your personal style. Our team takes pride in getting to know each of our clients individually in order to understand their unique lifestyle, routines, needs and design goals. Before getting to work on any renovations for a kitchen remodel, we make sure to schedule a consultation to get to know our client better and make sure that their goal is perfectly aligned with the design process.
We carefully listen to all of our clients' inspiration and aspirations, and make thoughtful recommendations when necessary. We encourage mood boards and inspiration photos from the client in order to better explore and refine their vision. By involving our clients in every aspect of the design process, we're able to build strong relationships with our clients in order to assure that no one feels left out from the designing of their home or kitchen remodel. Our valuable insight along with our clients' visions are the most important factors of creating the most elegant and individualized interiors.
Creating a Functional Layout
Another custom kitchen remodeling idea is to create a functional layout. At Living With Lolo, our team's goal is to thoroughly understand each of our clients needs and tastes. We want to make sure that the home we're transforming blends seamlessly with our client's lifestyles and doesn't cause any extra stress. Getting to know each of our clients lifestyles and routines helps us choose the best appliances and furniture to fit their needs, such as durability, cleaning, and maintenance. We want our clients to feel as though they are living their dreams, with no extra stress of home upkeep. Living With Lolo aims for each of their clients to feel the seamless and intuitive flow throughout the kitchen remodel, enhancing daily living and supporting their individual lifestyles.
Maximizing Storage Space
When designing a custom kitchen, it's ideal to maximize storage space. Our team understands that maximizing storage space in the kitchen is just as important as any other design need around the home. We help our clients feel more organized by assessing their current layout and storage needs, and then determining how our team can maximize the storage space in the home through the design process . We offer innovative and creative ideas for storage maximization, including the integration of built-in shelving, custom cabinetry, and smart storage features in the kitchen remodel. Our team's meticulous attention to detail and space planning allows our client to feel stress- and clutter-free. We aim for not only an elegant kitchen remodel, but also practical and efficient.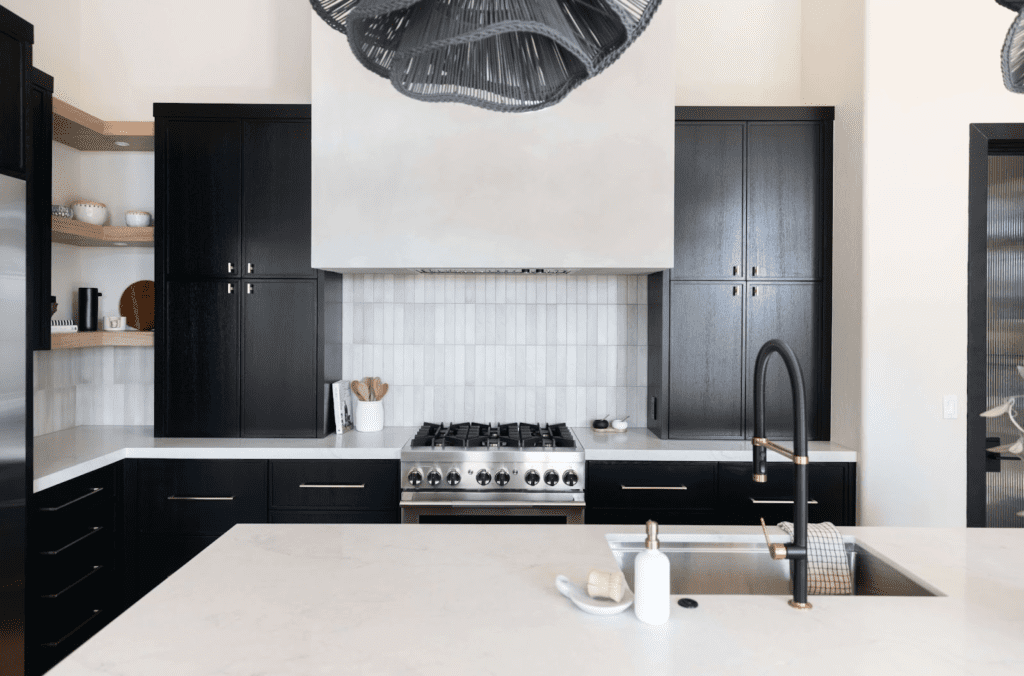 Trustworthy and First-Class Kitchen Makeovers
Our team's elegant taste for the finer things in life, combined with our attention to detail and awareness of our client's lifestyle needs, guides us in designing trustworthy and first-class kitchen makeovers. We have formed strong relationships with all of our vendors, who we handpick the highest quality appliances, flooring, and fixtures from. You can trust Living With Lolo to take great care in designing your kitchen remodel to fit your lifestyle and vision exactly how you like. We place a high importance on making sure that the client is involved in every step of the design process, from a consultation and reviewing vision boards to the final finishing touches.
Experienced and Licensed Contractors
We have take pride in building strong relationships with all of our vendors, who are all experienced and licensed contractors in the luxury interior design field. We make sure to carefully evaluate all of our vendors and make sure that their products and services are the highest quality on the market- just what our client's deserve. Just as we strive to transform your space into the kitchen remodel of your dreams, our vendors have a similar vision and share the same goal. At the end of the day, our team wants our clients to feel taken care of while still being able to be a part of the design and renovation process.
Quality Materials and Workmanship
Our team of interior design experts at Living With Lolo are meticulous in their attention to detail when it comes to quality materials and workmanship. We understand how the durability, functionality, and overal feel of the kitchen remodel greatly depends on the materials and craftsmanship involved in the design and renovation process. Our taste for luxury guides us in choosing the highest quality materials for our client, without ignoring budget restraints or functionality. Similarly, our handpicked team of vendors take great care in making sure your kitchen is sleek and perfectly finished.
"Lauren and her team took our ideas and dreams and made them even better!" -Mary M.
– M. Moroson
Our Kitchen Remodeling Process 
Our team never misses an opportunity to be detailed oriented and get to know the client at a deeper level. Our care and diligence throughout the whole kitchen remodeling process from start to finish is what leaves our clients' feeling supported and taken care of. We want all of our clients to feel like they have entered their ideal kitchen remodel when our job is done. 
Consultation and planning 
The first step of our kitchen remodeling process is getting to know our client's goals and vision through consultation and planning. We pay extra attention in the consultation stage as it greatly impacts the finished product. We employ various strategies for getting to know our individual client's unique tastes and preferences. We conduct interviews and open conversation in which we might ask about lifestyle and routines to better understand how the space should fit the clients lifestyle, as well as working with the client to look at inspiration and pull various ideas for the project. 
We'll also conduct a short assessment of the kitchen in-person in order for the kitchen remodel to be seamless. Lastly, we encourage collaboration and feedback in every stage of the kitchen remodeling process. By involving the client in the initial stages of the kitchen remodeling process, we can ensure the final design perfectly reflects their vision. 
Design and material selection 
In order to bring our client's kitchen remodel vision to life, we go out of our way to find the very best materials on the market. Our amazing vendors offer the finest design and material selection for kitchen remodels in Phoenix, AZ. From countertops to flooring, cabinetry to appliances, the Living With Lolo team has you covered. Our champagne taste guides us in the design and material selection process, and we believe our clients deserve the best of the best!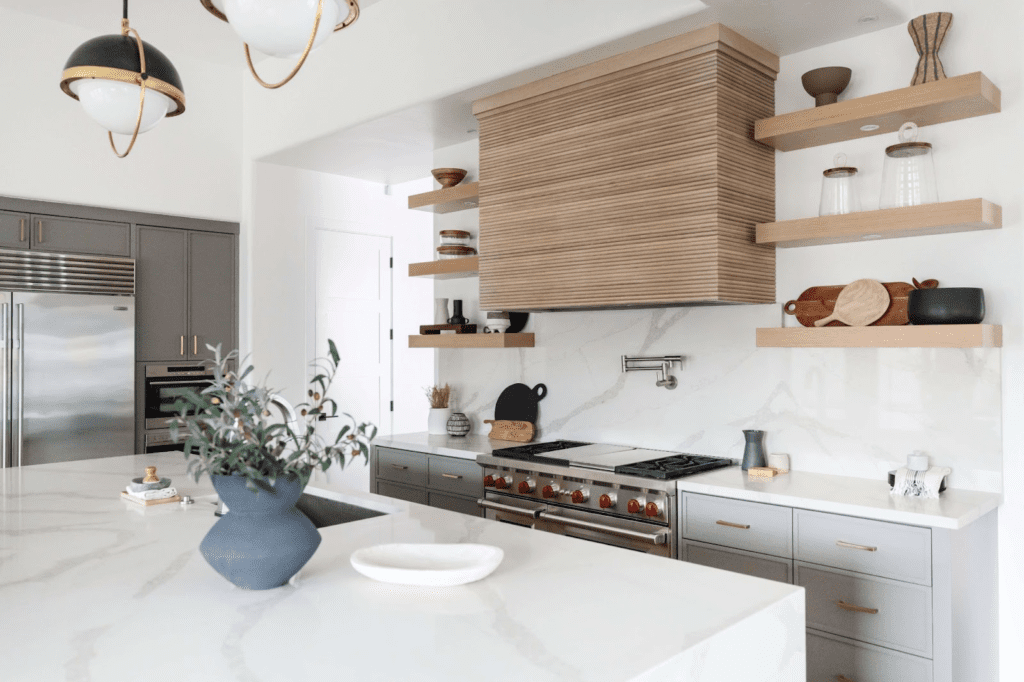 Installation and construction 
Next, we have a team of highly skilled, licensed contractors that perform the actual installation and construction of your kitchen remodel. We understand that in order for your kitchen remodel to feel seamless and effortless, the installation has to be perfect. Our expert contractors work quickly and meticulously, adhering to strict timelines and quality standards. Their craftsmanship and attention to detail, like the rest of the Living with Lolo team, not only meets the client's expectations but exceeds them, creating a beautiful, functional, and seamless space that truly brings their kitchen remodel vision to life.
Final inspection and project completion 
It's time to reveal your kitchen remodel! Before you get to enjoy your brand new, state-of-the-art kitchen remodel, we make sure to perform a thorough inspection. Living With Lolo places great importance on delivering exceptional quality to all of our clients. During the final inspection and project completion phase, we will meticulously review every aspect of the kitchen renovation to ensure that all the design needs and goals have been met. We check that installation has been handled properly, as well as paying close attention to the overall aesthetic and making sure that all aspects blend seamlessly. Any necessary touch ups we make sure to account for, and promptly address them  in order to guarantee a flawless finish. 
Ongoing maintenance and support 
We understand that the relationship with our clients extends beyond the completion of home renovations and kitchen remodels. To meet all of our client's needs, we offer ongoing maintenance and support to ensure satisfaction in the long run. In case any issues or concerns arise after the renovation, our team remains readily available to assist and provide timely solutions. At Living With Lolo, we pride ourselves on going the extra mile to support our clients. Our commitment to ongoing maintenance and support reflects our dedication to building lasting relationships with our clients and ensuring their continued enjoyment of their newly renovated spaces.
Conclusion
Build your dream kitchen with Living With Lolo! We want to help you create a remodeled kitchen that perfectly reflects your own unique needs and tastes.  Our care and attention to detail in every project are apparent in the results. We believe each of our clients deserve the best of the best in every aspect in their kitchen remodeling process, from choosing the highest quality materials to making sure that the kitchen is finished thoughtfully, purposefully, and seamlessly. 
Impactful, curated interiors. Innovative, efficient processes.
Discovery Call
We'll get to know you + learn about your goals for your project
In - Home Consult
We meet with you in your home for up to 1 ½ hours as we explore the details of your project
Design Concept
We pull out all the stops and dream up your one-of-a-kind design
Detailed Design
We research every option for each item needed + cull them down to only the best selections and solutions for you + your space
Purchasing + Execution
We order all your items + handle the day-to-day tasks of tracking order progress + receiving it all into our warehouse
Furnishings + Décor Installation
The LWL team and our crew of expert installers transform your home into a picture-perfect dream come true!